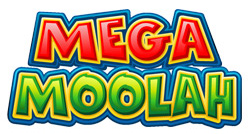 Known as "The Millionaire Maker", Mega Moolah is undoubtedly the most popular progressive online slot game available today. Released over a decade ago in November 2006, Mega Moolah forms part of Microgaming's lucrative progressive jackpot network, currently consisting of more than 60 online casinos. The jackpot itself actually comprises four progressive jackpots in one: Mega Moolah Mega, Major, Minor and Mini.
► Play Mega Moolah at Jackpot City Casino and claim my FREE Welcome offer
Mega Moolah was originally released as a single slot but can now be played on a variety of slots such as Mega Moolah Isis, Mega Moolah Summertime, Mega Moolah 5 Reel Drive, and The Dark Knight. All these games pay into and share the progressive jackpot pool, which means a win can be triggered while playing any one of them. As of 2020 the Jackpot has made 86 Millionaires!.
Players can access Mega Moolah across many different platforms. It can be played directly from browsers such as Safari, Firefox, Chrome or Internet Explorer. A download option is available to Windows users, which installs the casino directly onto their computer. Mega Moolah is also available on mobile devices including iOS and Android phones and tablets. The game also has useful functionalities like AutoPlay and Expert Mode.
Our Top 3 Mega Moolah Casinos September 2020
Claim $1600 over 4 deposit match bonuses
Many deposit options incl; Visa, PayPal, Neteller, Interac
Super Fast cash outs and 24 hour customer service
The "home of Jackpots"
$1000 sign-up bonus to the palace of prizes
The variety of themed slot games is a sight to behold
One of the oldest and most trusted online casinos
A Microgaming slots casino of very high calibre
$1200 bonus + 200 extra spins
400+ slots games to keep you spinning for hours
Voted "Mobile operator of the year" in 2016
Founded in 2012 and licensed in Malta & UK
Canada's Lucky Streak with Mega Moolah
Canadian players account for 18 of the Mega jackpot winners, an impressive 31%. The interesting context to this figure is that the first Canadian Mega winner was only recorded in 2014, 8 years after the first appearance of the slot. This suggests that the slot has had a rapid rise in popularity in the Canadian market over the last 5 years.
2019 was a bumper year for Canadian jackpot Players with 6 winners where they collectively took home close to $43 million in jackpot winnings.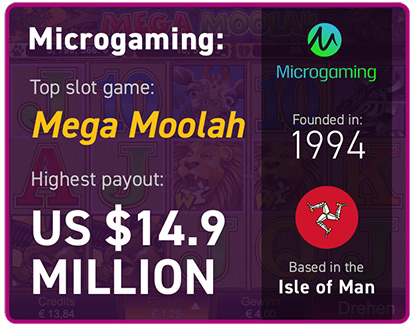 Overall, since the inception of the jackpot, Canadians have won a total of CA$105 627 507,74, according to the official Mega Moolah website, making the players of the north American nation some of the luckiest in the history of the game.
Most of the Canuck winners have understandably opted to remain anonymous, often only allowing the casino to provide their initials when announcing their wins.
One player, notably, allowed his name to be published online. Marcus Goodwin won CA$11,633,898.44 on 05/11/2016, after Playing Mega Moolah at Yako Casino. His was the second highest Canadian win ever recorded in the history of the slot.
The luckiest Canadian player in Mega Moolah history walked away with an astounding CA$20,059,287.27 win. The identity of this player remains a secret well guarded by Zodiac casino, where the epic win was made.
Mega Moolah Game Features
Mega Moolah is a jungle-themed video slot made up of 5 reels and 25 paylines. A delightful little intro movie sets up the mood before the base game kicks off. Winning combinations are formed when 2 to 5 matching symbols show up on an active payline. Comical animals make up the high valued symbols and the payout schedule attached to each one will be covered in more detail further on.
The Lion symbol is a Wild Multiplier. This means it can substitute for any other symbol when it shows up to form a winning combination, and it doubles the payout on any winning combinations it creates. The Scatter Symbol is represented by the Monkey. Winning combinations are formed when 2 or more show up anywhere across the reels, and the Free Spins feature is triggered when 3 or more appear.
15 Free Spins are awarded during the Free Spins round, and any wins accumulated during this session are tripled and added to the player's total winnings. It is important to note that the Progressive Jackpot cannot be activated during this feature.
How The Mega Moolah Jackpot Works
The Mega Moolah progressive jackpot activates at random during the base game when a wheel of fortune divided into four sections pops up on a second screen. As mentioned before, the jackpot is made up of 4 tiers, and each segment on the wheel represents them as follows:
The red segment with zebra footprints represents the Mini jackpot which starts at $10.
The orange segment with giraffe footprints represents the Minor jackpot which starts at $100.
The yellow segment with elephant footprints represents the Major jackpot which starts at $10,000.
The white segment with a lion footprint represents the Mega jackpot which starts at $1 Million.
The progressive jackpot amount increases gradually as a small portion of every wager placed is fed back into the prize pool. Jackpot totals are continuously updated, and reflects on the screen during play. As soon as one of the jackpots has been won, the amount goes back to the default setting and starts building up again.
Note
The bonus wheel can be triggered on any wager but the likelihood of it happening more often increases if a bet is placed on the maximum number of lines.
Mega Moolah Facts & Figures
The coin value for placing bets ranges from 0.01 to 125.
The maximum amount of coins to be won during the base game is 15,000.
The payout percentage is 94% – 95%.
Total hit frequency is 46% to 47%.
Mega Moolah is not available in free play mode.
Game speed is adjustable.
Any malfunction during the game voids all plays and payouts.
Regular payouts per animal symbol combination (amount of symbols / coin payout):
Lion – 2/15, 3/125, 4/1500, 5/15000.
Elephant – 2/6, 3/50, 4/150, 5/750.
Buffalo – 2/4, 3/40, 4/150, 5/600.
Giraffe – 2/0, 3/30, 4/125, 5/500.
Zebra – 2/0, 3/20, 4/100, 5/400.
Kudu – 2/0, 3/10, 4/50, 5/250.
Play the Best Progressive Jackpot Slots Online
Mega Moolah Historic Wins
We have chronicled the biggest wins the Mega Moolah progressive jackpot has produced in the last few years.
A newly registered Spin Casino players wins €1,650,382.89 on 20 July 2020
Massive €10.7m won at Jackpot City Casino on the 5th of April 2020
Massive CA$4,746,748.54 jackpot win by a lucky Canadian on the 5th of September 2019!
Another massive win of CA $5.9 million for the Canadians at Jackpot City Casino on the 10th of August 2019
CA$3,308,063.71 jackpot win on the 6th of March. This was a day after the previous win of $12,945,668.34 on the 5th of March 2019
30th January 2019 €13.3m in prize money was paid out to a luck winner on Zodiac Casino
28 September 2018 an anonymous player walked away with a world record breaking EUR18,910.688
24 June 2018 a 27 year old kiwi player Rawiri Pou won a whopping NZD 8.332.554
20 April 2018 A British player won a neat little sum of GBP 1,778.226
19 April 2018 a Canadian player knows as S.K. with an amount of CA$ 5,691.921
8 March 2018 a British player took home a tidy sum of EUR 4,365.843 when he hit the Mega Moolah jackpot
27 February 27 saw another lucky Canadian player walk away with a $7,453,168 million jackpot win on Mega Moolah.
The start of 2018 was extremely lucky for a Canadian Mega Moolah jackpot winner of CA$3.6 million.
15th November 2017 -The Mega Moolah jackpot landed again by a lucky Canadian player for CA$1.4 Million.
1st of October 2017 we saw yet another jackpot win of 1.4 million! This is two strikes in one week!
25th September 2017 was an extremely lucky month for a player bagging a stupendous EUR7.7 million.
14th August 2017 A super happy player won the jackpot of $5.13 million. The person chose to remain anonymous.
Jun-July 2017 – 1 Month divided 2 lucky players in their jackpot strikes, June 2017 saw EUR1.5 million being won and July 2017 had another EUR1.7 million paid out.
22nd of May 2017, Another lucky player hit a whopping €3.7 Million jackpot win – just 27 days after the last win!
25 April 2017 The Mega Moolah mobile slot jackpot was won by a lucky player worth €8,012,153.35 or $8.7 million.The player was using Tipico network and the wager was only €6.25
8th of April 2016 ushered in a new instant millionaire with a jackpot win of €7 Million at Spin Palace.
In October 2015 a young UK Veteran, Jonathon Haywood smashed all previous records with a £13.2 Million win off a… wait for it… 25 pence wager!
A Canadian player known only as I.R won CAD $7.5 Million in April 2015.
2014 produced 3 spectacular wins, one of which was a Mobile Mega Moolah player winning the highest ever recorded win on a mobile device at $3.9 Million.
In 2013, 6 lucky punters became overnight millionaires, one of whom won while playing Mega Moolah Mobile. The highest win belonged to an anonymous US player at $3.3 million.
In December 2012, John Orchard from the UK made Mega Moolah history when he won a staggering £5.88 million while playing The Dark Knight. What is interesting about this win is that John is actually a bingo player who decided to take a stab at the jackpot with a measly 30 pence stake. Talk about being lucky! Four other people also walked away with life-changing amounts that year courtesy of Mega Moolah.
In 2011 a female player by the name of Susan won £1.9 Million while playing Lord of the Rings, a slot which is no longer available.
In August 2010 a certain Mrs P made her mark in the Mega Moolah hall of fame when she won a whopping $4.2 Million playing Mega Moolah Summertime at Spin Palace casino.
3 Noteworthy wins were recorded in 2009, the most mentionable belonging to Georgios from Greece. Georgios was rewarded with over € 6.3 million after only spinning with 5 euros!
The earliest big win to go down in history belongs to Klause E from Finland, who won $5.5 million from a wager of only 0.50 cents. In other words, he won 11 million times his original bet!
These statistics are an overwhelming testament that Mega Moolah is indeed the Millionaire Maker. In fact Mega Moolah jackpots are paid every single day, ranging anywhere between $10 and $5 Million dollars. The Mega jackpot is triggered on average every four months or so, and pays around $3 Million per hit.
Where to Play Mega Moolah?
Here is our extensive list of top quality casinos offering the Mega Moolah progressive jackpot!
Platinum Play
Spin Palace Canada
LeoVegas Casino
Royal Vegas Casino
Jackpot City