People play slots for many reasons, although the potential to win a lot of money is the biggest draw. Some love the graphics, gameplay and sound effects. Then, there are those who come for the bonus features and want to be entertained by them.
However, not all bonus features fit the bill for what could be considered entertaining. Bad design and/or poor risk-reward balancing can make a bonus feature seem boring. If you want to know which slots have the most entertaining bonus features, keep reading to discover five of them.
You will be able to find the bonus features mentioned in other slots, but this is the best implementation.
But before we jump in, let us talk about what bonus features are, types of bonus features and what makes them entertaining.
What are Bonus Features?
Bonuses features are considered to be add-ons or extensions that make the base game more engaging and thrilling to play. These are added to the slot to give the player more ways to increase their winnings as well. You will find them in a majority of video slots found online.
Types of Bonus Features
Slots don't contain one bonus feature. They will usually have multiple, each with its own mechanics. Players are already family with special features that have become standard for almost any slot, such as Wilds and Scatter symbols. These can no longer be considered bonus features these days.
Below, you will find the bonus features that are commonly found in online slots:
What Makes A Bonus Feature Entertaining?
What entertains one person can be a bore to another. However, there are things that any reasonable slot player can agree should be present for the bonus features to be considered entertaining.
If none of the following are present, you might find yourself anything but entertained.
These 5 Slots Have the Most Entertaining Bonus Features
There are hundreds (if not thousands) of slots out there. You cannot play all of them to find out if they have entertaining bonus features. That will not only be time-consuming but costly. Try these slot games mentioned below the next time you're surfing the web for slots with bonus features that entertain.
1. Avalon II Slot Game
Avalon II is one of the most popular fantasy-themed slots to ever grace online casinos. It was developed by Microgaming and released in 2006. The developer saw that it was due for an update and released Avalon II in 2014, which also became a substantial hit.
Avalon II is set in the world of King Arthur, with Excalibur, knights and sorcery. It is an immersive experience with 3D graphics, stunning animations and epic sound effects. It features five reels, three rows and 243 paylines.
What makes this slot's bonus features entertaining is the fact that they are multileveled. In the end, you do not just get one bonus feature. You get up to eight that are all part of the Grail Bonus.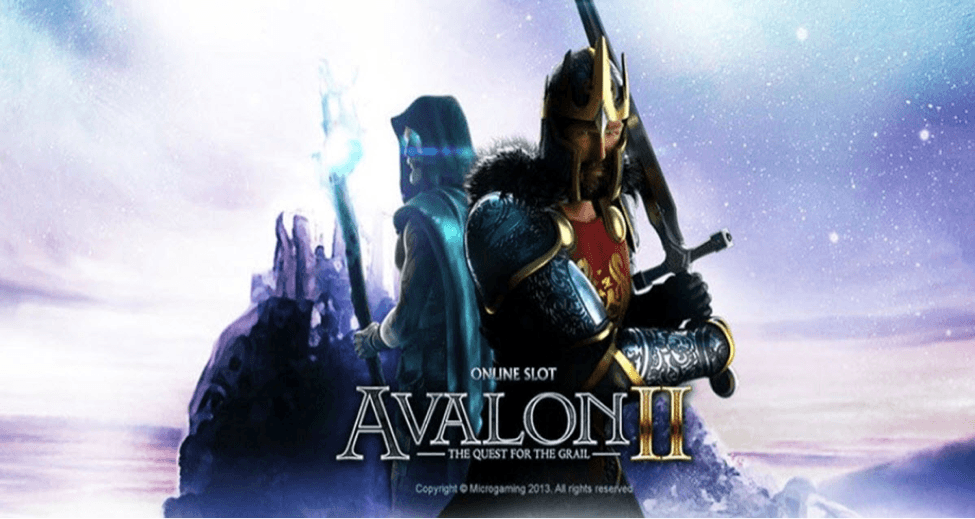 This is where you assist King Arthur on his quest for the Holy Grail through a series of mini-games. These are:
Lake of Legend Bonus Feature
Misty Vale Bonus Feature
Whispering Woods Bonus feature
Forest Falls Bonus feature
Dusky Moors Bonus feature
Morgan's Keep Bonus feature
Hall of Shadows Bonus feature
Isle of Avalon Bonus
The Grail Bonus is triggered by landing the scatter symbol, which is a grail, three or more times on any reel. The sheer variety on display here is reason enough to keep playing for hours and returning for more.
2. Rocky Slot Game
Rocky is a pretty entertaining series of movies starring the Italian Stallion himself: Sylvester Stallone. You cannot expect the game to be anything but entertaining. Developed by Playtech, this five-reel, 25-payline slot encapsulates all that made the Rocky series great, down to the visual and musical themes.
All your favorite characters are here: Rocky Balboa, Apollo Creed, Ivan Drago and James "Clubber" Lang. Your job as you spin the reels is to help Rocky become a champion in the ring.
The entertaining bonus feature that this slot has is called the Knockout Bonus. The fact that it stands out amidst other great bonuses in the slot game is a testament to how incredible it is. It is a bonus that is triggered by landing a white boxing glove on the first reel and a red one on the fifth wheel.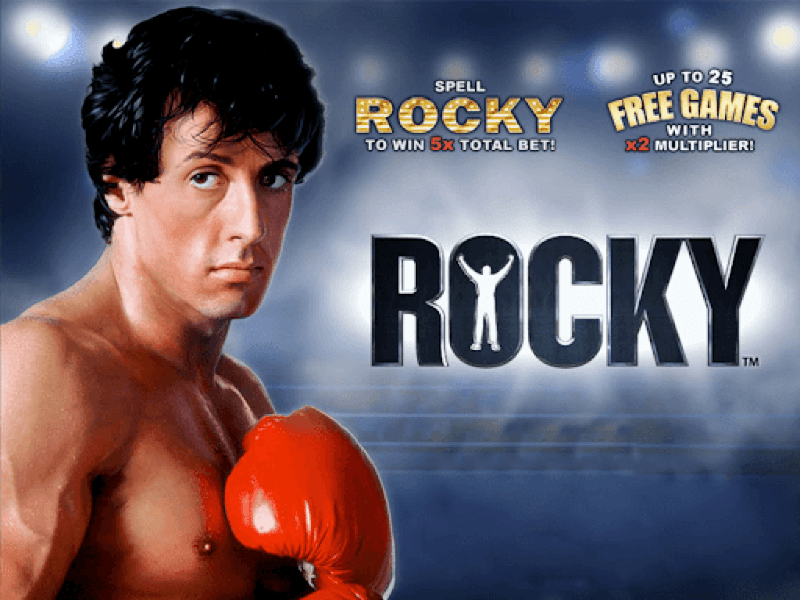 Afterwards, you will be asked to choose one of Rocky's greatest foes: Creed, Drago and Clubber. The two will go 10 rounds that will keep you at the edge of your seat and cheering like it is a real boxing match. You get an instant cash prize with each round that Rocky wins.
However, the match can end before the 10 rounds are up. If Rocky is knocked out, for example, in the fifth round, you automatically lose the other five. If the opposite happens, you win them.
3. Game of Thrones Slot Game
Even if someone is not a fan of fantasy epics, chances are, they still know what Games of Thrones and its colorful characters are all about. This is the one fantasy sage that transcended all walks of life and became a beast of its own. This slot is based on the super popular HBO show, that ran for eight seasons. Millions of people tuned in to see who will finally seat on the Iron Throne.
In this slot, with five reels and 15 paylines, the Iron Throne is used to trigger its most entertaining feature when you land it three times or more: the 4X Free Spins Bonus. There are four types of free spins that are triggered based on the main Houses of Westeros. Each house comes with its own set of free spins, multipliers and stacked symbols (the house's banner).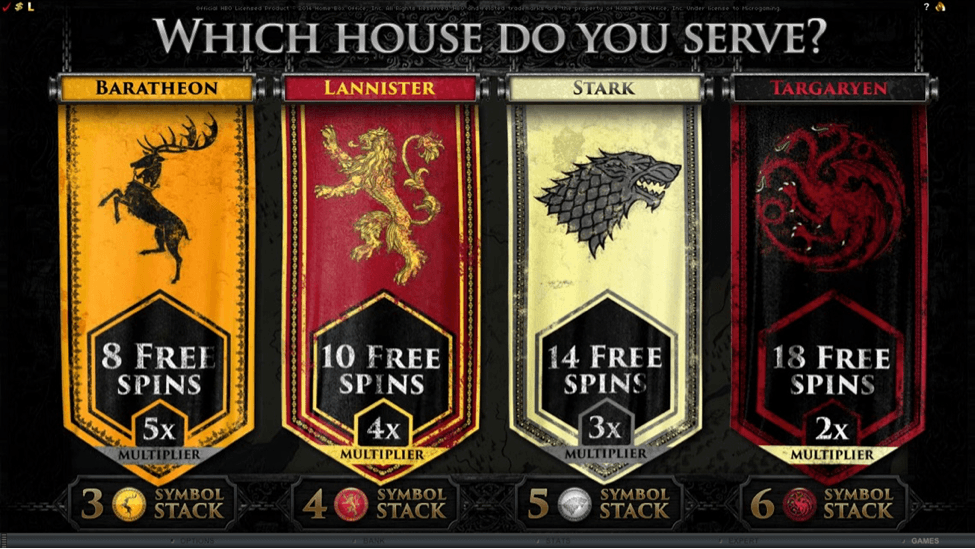 Once triggered, you select which house you want to serve. Are you a Baratheon, Lannister, Stark or Targaryen? Take a look at the table below and decide:
Are you a Baratheon, Lannister, Stark or Targaryen?
4. Pink Panther Slot Game
Set in the universe of the cartoon series, this Playtech-developed game puts the elusive Pink Panther on display again. The slot features vibrant, cartoony graphics, together with that immensely addictive Pink Panther theme song. It is a five-real, 40-payline slot with so many exciting features that it can stump the imagination that it is based on a Saturday morning cartoon.
Pink Panther Bonus Features
An entertaining bonus feature this slot has is its collection of five randomly-triggered bonus games. These are:
5. Jurassic Park Slot Game
Jurassic Park is arguably one of director Steven Spielberg's masterpieces. This visual splendor has been captured into a dinosaur-filled slot that offers the thrills of the movie with each spin. Do you dare enter Jurassic Park?
This five-reel, 243-payline slot developed by Microgaming has a unique free spins feature that makes use of its dinosaur theme to award the player huge wins. When you land three or more Scatters (mosquitoes encased in amber), you will trigger the free spins round.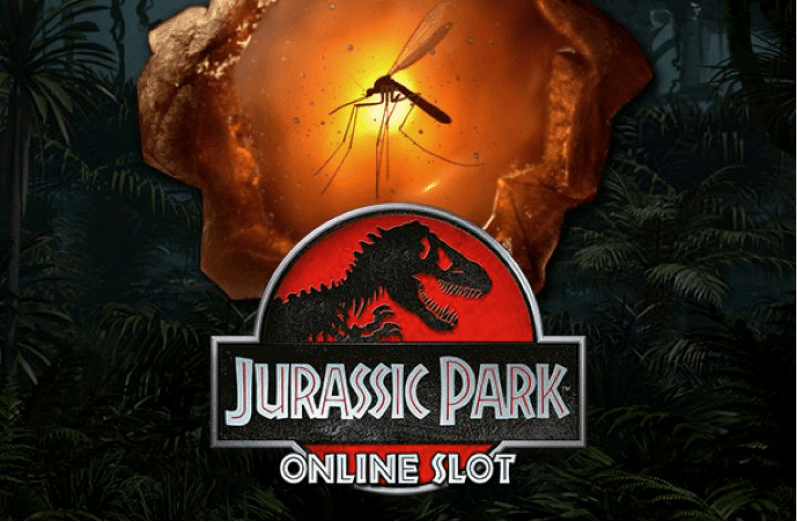 Jurassic Park Bonus Features
Initially, you will get 12 free spins, and one of the following dinosaurs will be chosen, each with more rewards for you.
In Conclusion
If you play any of the above-mentioned games, you will treat yourself to some of the most entertaining bonus features. Playing slots is not just about winning, it also about having a good time. This is much easier to do when you are entertained.