There is luck or chance involved in everything we do in life. Whether it's meeting our future partners in a crowded bar, winning the lottery or being hit by lightning. All these scenarios involve an element of chance. It's the same when it comes to casino-based games of luck – your fate is in the lap of the gods, even if there are certain strategies you can employ to make your money last longer at the tables.
Casino games of chance are a form of entertainment. They provide thrills and spills and are a great way to spend your leisure time – providing you don't set unrealistic expectations to win bundles of money, of course. Casinos, and casinos online, are built on luck. You only have to look at gambling meccas such as Las Vegas to understand that these multi-billion-dollar casino resorts generate a sizeable profit from players taking a chance on the slot machines and table games.
The Demographics Associated with Luck-based Games
For many decades, luck games have been associated with certain player demographics. They've long been perceived as "safe" options for entertainment among these demographics, thanks largely to their capped costs for games and plentiful opportunities for players to socialize before and after their gaming sessions.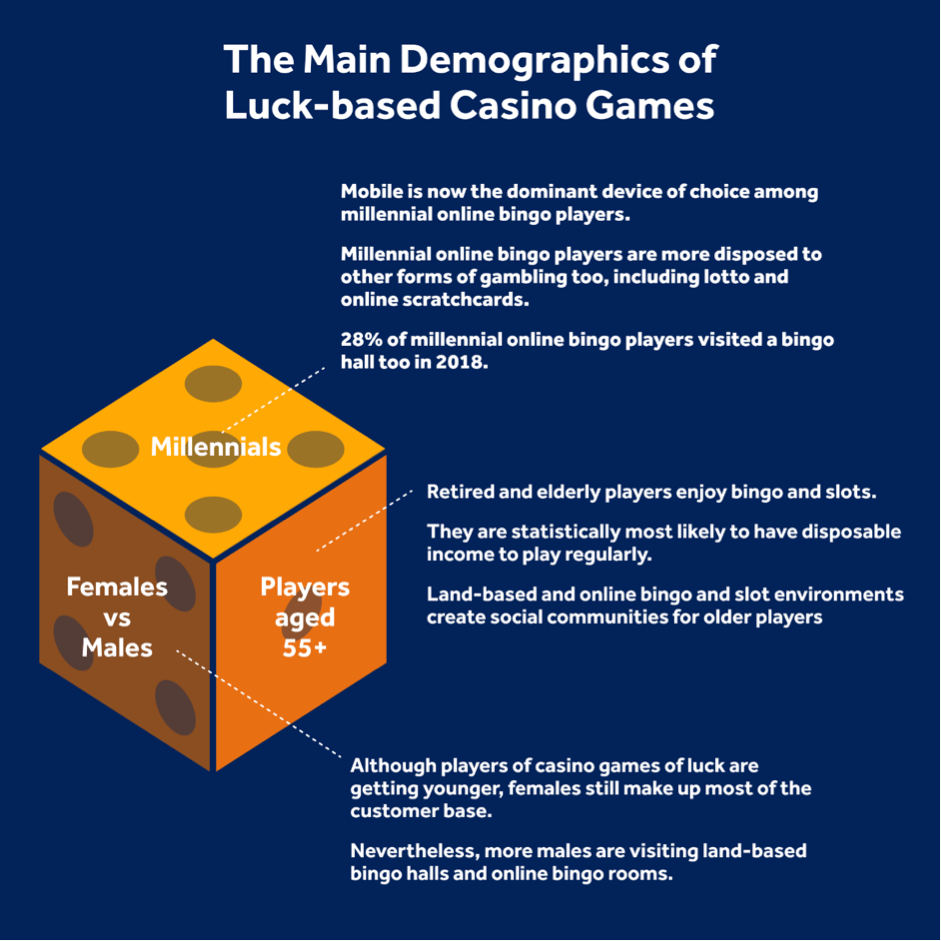 Bingo
Bingo has long been associated with the older generation, becoming the heart of local communities since the mid-20th century. Older players have viewed bingo as a social event, not just a chance to win money. Players have long been able to eat, drink and chat together in between bingo games, becoming a focal point of the week for elderly and retired people to look forward to.
Slot Games
It's a similar story when it comes to the world of slot play. Most land-based casinos and casinos online reach out to middle-aged female players when marketing the latest slot releases. Stereotypically, this demographic is most interested in playing slots as they are perceived to have more time on their hands, as well as the disposable income to regularly spin the reels.
Why the Demographics of Casino Games of Luck Are Widening Fast
The reality is that although luck games like bingo and slots still resonate with those traditional demographics, these games are increasingly gaining appeal with the younger generation too. Bingo's move online has helped encourage younger players to sign up and play on their smartphones and tablets. In the UK, YouGov found that 28% of people aged 25 to 34 played bingo online compared with 26% of people aged 35 to 44.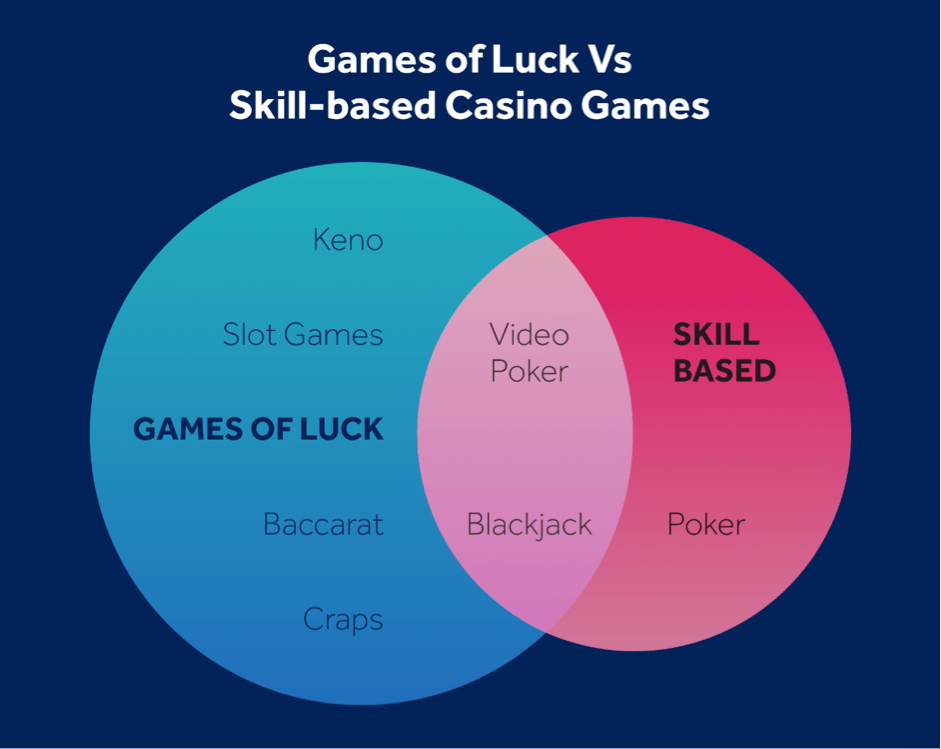 The organization also discovered a rise in the number of younger players visiting brick-and-mortar bingo halls, with more than a quarter (28%) of millennial online bingo players visiting their local bingo hall. These trends are increasingly being felt across the Atlantic in North America too. The split between male and female players remains heavily weighted towards women, with female online bingo players enjoying the interactive nature of online bingo rooms and the opportunity to chat with like-minded people.
The Pros of Luck-based Casino Gaming
While it's impossible to devise a strategy to improve your win-rate playing casino-based games of luck, there are still many reasons why people sign up to play slots online or in a land-based establishment.
Do any of the following pros resonate with you?
Simple Games with a Genuine Pick-up-and-play Appeal
You could almost label slot games as hyper-casual luck games. They require very little time or attention to master, allowing casual gamers to pick up and play from the word go. Most slot players don't want to have to spend half an hour playing demo versions or hitting the 'Help' button to master the game mechanics and paytables. They just want to be able to start those reels spinning in the hope of hitting some big wins. If not, then they've had fun along the way.
The Thrill of Chasing High Rewards
In most casino-based games of luck, there must always be a winner. Although you might not be in control of your own destiny, you are in it to win it whenever you buy an online bingo ticket or spin the reels of an online slot with a massive progressive jackpot. Statistically, you might not be likely to win, but the excitement of potentially being that shock winner is what keeps players coming back for more.
Innovative Bonus Features
The most popular luck-based slots are those with the most enjoyable or plentiful bonus features. Bonus games, triggered by scatter or wild symbols, come in all different shapes and sizes. The most common being free spins, which are a highly coveted prize among seasoned slot players, giving them free hits at landing those big-ticket payouts. There are also pick-me bonus screens, which have a healthy dose of chance attached to them. Players click a symbol to reveal a random prize or multiplier.
Some slot developers are looking to gamify their bonuses further by introducing bonus 'trails', whereby players can work their way along a board game-style trail in the quest of landing on and accumulating prizes before the feature ends.
A Plethora of Game Themes
The chances are, if you've thought of a theme for a slot game it's already been made. The slot libraries of online casinos are jam-packed with hundreds, if not thousands, of titles all geared towards differing hobbies, interests, and cultures of players. For instance, Irish slot fans may enjoy being able to 'kiss the blarney stone' and spin the reels with the lucky leprechauns that characterize so many of the slots based on Irish folklore.
Many slot developers are also rapidly catching on to trends in popular culture, securing official licenses to be able to offer slots based on Hollywood movie franchises, hit rock bands, or pop stars. All of which contain eyecatching, high-definition (HD) visuals and audio to create an immersive slot experience – even though the outcome on the reels is still as randomized as ever.
Responsive Technology for Gaming on the Go
There is no doubt that the rise of HTML5 technology proved to be the undoing of Adobe Flash, but the making of the mobile iGaming sector. HTML5-powered casino games of luck like video slots are now designed to be fully responsive, with agile visuals that can adapt based on any screen size. This means that players have been able to try their luck whenever it's most convenient to them at their favourite casino online.
Instant Gratification for Casual Gamers
HTML5 technology has also helped casino-based luck games like slots become something of a magnet to casual gamers too. These are people who crave immediate gratification, allowing them to pick up and play without having to spend a great deal of time learning the ropes or overcoming barriers to play. There's no technique or strategy needed with slots, bingo, and slingo games. Nor do you have to invest heavily in state-of-the-art technology, with games designed and built to perform on any screen or operating system.
What Does the Future Hold for Slot Games of Luck at Casinos Online?
There are three apparent trends to look out for in the world of online slots that are worth keeping a watchful eye on if you enjoy taking a chance on the reels: