Video gaming is on the rise worldwide, with the industry generating $135 billion in 2018 and expected to hit $180.1 billion by 2021. Of all of the nations that are increasingly getting into gaming, Canada is perhaps one of the most exciting. It was found in 2018 that two-thirds of Canadians play games, making Canada one of the largest per capita populations of game players in the world.
Video game revenues in Canada clocked in at a hefty US$918 million in 2019 and are expected to eclipse the one-billion mark by 2023. But it's not just console and computer video games contributing to these figures, with mobile games taking up a sizeable proportion – as is the case in many other major gaming jurisdictions – and online casino games, particularly online slots, also being a very popular form of gaming in the nation.
One of the most popular genres within gaming is that of sports. The mainline sports games are released by either EA Sports, 2K, or Sony annually, producing titles for soccer (FIFA), the NFL (Madden), MLB (MLB: The Show), basketball (NBA 2K), and hockey (NHL). While there are many other games across different gaming platforms and of different production costs – ranging from casino games to freemium mobile games – these are the flagship franchises that most sports fans will pick up and play.
With video gaming being so popular, the genre of sports games being among the biggest, and sports, naturally, being a huge draw, we see if there are any comparisons to be made between real-life sports and their video game counterparts. To answer this question, we have corralled sales, attendance, and viewership numbers as well as pose a survey to the Canadian public.
What are the Most Popular Sports Video Games in Canada?
While the sports genre is a major one in the video game industry, it's certainly not the most popular. Many gamers still enjoy adventure, action, RPGs, shooters, and puzzlers which hold a more respected profile among the video gaming community right now. Mired in controversy, the two biggest publishers of sports games – EA and 2K – are greatly looked down upon by many gamers due to the pay-to-win mechanics enforced in their most popular game modes. So, it should come as no surprise that 57 percent of Canadian respondents to our survey doesn't favor any of NHL, NBA 2K, FIFA, Madden NFL, or MLB: The Show. A further 65.2 percent don't own any games from those franchises, and 76 percent don't purchase one of the games at least every other year.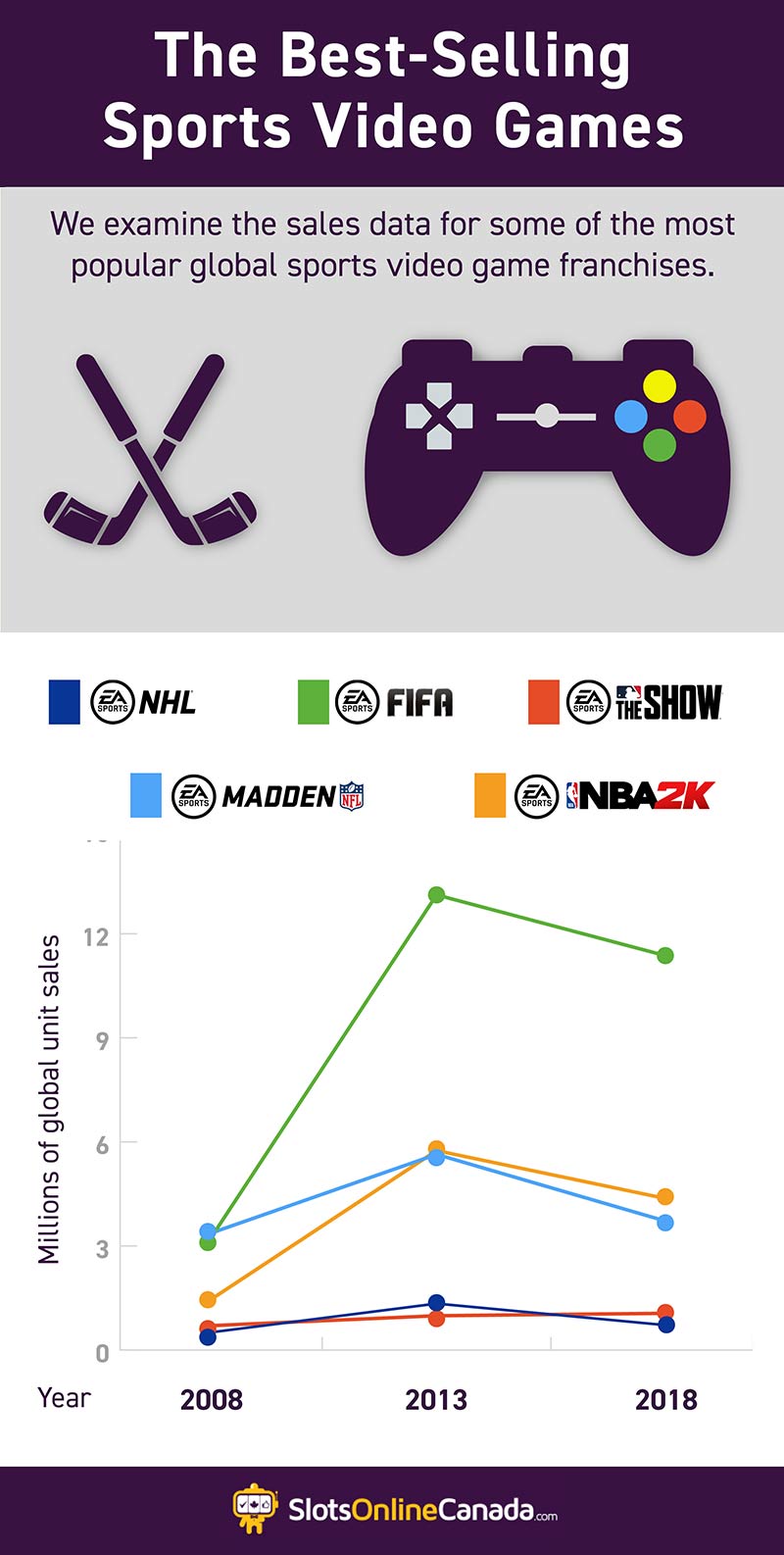 Hockey: Canada's Game On and Off the Rink
It shouldn't come as a surprise, however, that those who do favor a sports game franchise choose NHL. Hockey is well-known to be Canada's game, with 20.1 percent of respondents preferring the NHL games. At a distant second ranked the NBA 2K series at 7.3 percent, potentially bolstered most recently by the Toronto Raptors taking the NBA Championship. After the basketball franchise comes the world's favorite, soccer, with FIFA earning 6.9 percent of favor. At the tail end is Madden NFL at 5.6 percent, with the sports game being without any Canadian team or CFL representation, and MLB: The Show at 3.1 percent.
FIFA Pushes NHL Close for Ownership
When it comes to the actual ownership of these games, however, the race gets a lot closer. NHL, naturally, leads the way with 19.2 percent of those surveyed saying that they own a game in the franchise. But NHL is closely followed by fellow EA Sports title FIFA at 16.5 percent. The ownership rates drop down to 11.4 percent for Madden, then 10.2 percent for NBA 2K despite it being the second-favorite, and then MLB: The Show at 3.4 percent.
Each year, EA, 2K, and Sony release a new version of their games to capitalize on new players coming into teams and player movement. They also update the gameplay and graphics most of the time as well. So, it shouldn't be too surprising that players don't buy the new game every single year. The most die-hard collective of Canadian sports gamers is, of course, for the NHL game, with 13.5 percent buying the game at least every other year. FIFA clocks in second with 7.6 percent being regular buyers, followed by Madden at 6.4 percent, MLB: The Show at 4.5 percent, and, surprisingly, NBA 2K at the bottom with just 4 percent regularly updating with the newest edition.
What Gives NHL the Virtual Edge?
The NHL video game franchise from EA Sports is easily the most popular and consistent across our parameters, with only FIFA coming close in ownership percentages. What gives the NHL games an edge over the likes of Madden is that it isn't solely focused on one league, including the major junior leagues and European competitions of hockey within the game. FIFA will always provide stiff competition because the sport of soccer continues to grow in popularity in North America and is EA Sports' flagship game, which they heavily promote around the world to maintain its gigantic player base.
This sports bias is reflected in other forms of gaming, with the slots Break Away, Break Away Deluxe, and Hockey Hero being among the most popular slots in Canada, but due to the plethora of soccer slots like Ultimate Dream Team, Bicicleta, Foxin' Wins Football Fever, and Hot Shots, soccer slots often challenge hockey slots in the rankings. The sports and its gaming equivalents are beloved around the world, so it makes sense that even if Canadians don't wholly favor the sport, they'd still like to try the game version simply due to its popularity.
What are the Most Popular Live Sports in Canada?
Canada is a land of many sports, with most sports fans following more than one type. With the NHL having a strong representation of Canadian teams, even without the long-awaited new Quebec franchise and its die-hard fan base; there being multiple clubs in the MLS; and being represented by the Blue Jays and Raptors in the MLB and NBA, respectively, Canadians have a grand choice of major league sports teams based north of the border to support. However, other sports like Canadian football, golf, and figure skating command strong fandoms.
Hockey Cemented as Nation's Favorite
In our survey, we focused on sports with triple-A video game counterparts. Once again, hockey rules in Canada, with it being the favorite sport of 30.4 percent of our survey's participants. Thirteen percent said that American football is their favorite sport, with 12.8 percent siding with basketball, 10.1 percent primarily being soccer fans, and 4.4 percent putting baseball above all else. As explained above, there are many sports to enjoy in Canada, so the 29.3 percent who answered 'None of These' shouldn't be too shocking.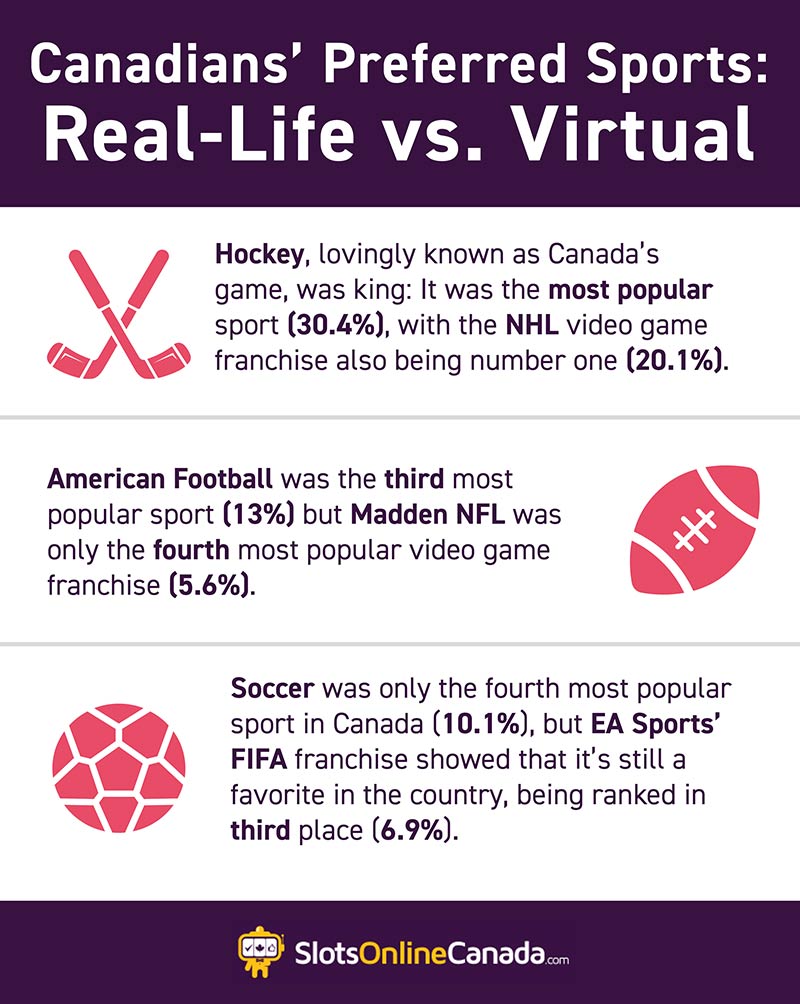 The enjoyment of more than one sport became evident in the follow-up question of 'Which of these sports do you have an interest in?' which revealed that 44.2 percent of Canadians have an interest in hockey. 30.2 percent have an interest in basketball, which is closely followed by 28.3 percent being interested in baseball. These two named sports following ice hockey is likely due to the respective major North American leagues touting Canadian representation. American football comes in at 25.1 percent, with the still budding world of soccer clocking in with 21.5 percent of our respondents being interested. Thirty-one percent weren't interested in any of these sports with major video game counterparts.
Live Attendance vs. TV Viewership
Now, to the numbers that the actual sports franchises care about: viewership and attendance. Back in 2017, it was found that Canadian sports viewership habits greatly favor hockey over all else. Forty-eight percent of people watched hockey the most while growing up with 40 percent continuing to watch at the time of the survey. Baseball held strong retention numbers, with 8 percent following watching baseball the most when growing up and 'today,' with basketball also holding its audience but at 3 percent. Football came in with the second-highest percentage as watched the most at the time with 10 percent, with soccer following at 7 percent. Figure skating was also well-represented, with 10 percent watching the sport the most when growing up and 6 percent watching it more than other sports 'today.'
Our survey found that 42.8 percent of respondents don't watch any of the five specified sports at least every other week on television. Hockey still goes the strongest in regular TV viewership, however, with 38.7 percent saying they tune in at least every other week. Canada's favorite sport is followed by regular viewing of American football at 16.8 percent, baseball at 14.6 percent, basketball at 13 percent, and soccer at 8.3 percent.
Regardless of regular viewing, it seems that if there's a big game taking place, Canadians are interested. Game 6 of the 2019 NBA Finals, featuring the Toronto Raptors against the reigning champions, the Golden State Warriors, and earned a combined average audience of 8 million viewers across Canada, making it the country's most-watched NBA game ever. Game 7 of the Stanley Cup Finals, despite being between two American teams, also broke a record as the most-watched NHL game this millennium, and since 1994, with 8.914 million viewers.
Viewership of the biggest game on the NFL calendar, the Super Bowl, continues to fall in Canada, with the 2018 contest dropping to 4.45 million viewers north of the border, down from 7.32 million in 2016. The Toronto Blue Jays have finished fourth of five teams in the AL East for the last three seasons – including 2019 – and so while there isn't any recent big-game data to draw, they were averaging 706,300 Canadian viewers from April through to July in 2017, marking a decrease of 189,100 average viewers from the season prior. In 2017, when Toronto FC won the MLS Cup, Canadian viewership peaked at 2 million in the final.
It's Safe to Say: Hockey is King in Canada
When it comes to sports, be it in gaming or live competition, Canadians love hockey as is evidenced in one of Canada's favourite hockey themed online slots. The sport of hockey, the NHL gaming franchise, and NHL viewership parameters ranked above all others in each of our dissections, which doesn't come as a surprise. The surprise may be that hockey isn't as dominant among all those surveyed as may have previously been assumed, but it was still dominant across the five major sports of focus.
Comparing peoples' favorite sports game franchise and favorite real-life sport, the NHL games and hockey ranked as the highest sporting options, but then there's a split between game of preference and sport of preference. As for the game, the order of favoritism goes NBA 2K, FIFA, Madden, and then MLB: The Show, but when it comes the actual sport, American football comes second to hockey, followed by basketball, soccer, and then baseball. This is likely down to the lack of promotion of soccer to American football in Canada regarding the game rankings. Baseball finished as the least favorite in both results.
As stated, Canadian sports fans often like and follow multiple sports, so comparing those who own any game in a sports video game franchise with a general interest in each sport of focus should reveal fairly tangible results. The NHL game and hockey reigned supreme across both once again, but despite FIFA being the second-most owned game, soccer had the second-lowest percentage of interest – showing the sport is still very much in its budding phase in North America. Basketball was the second-highest sport of interest, but the NBA 2K game franchise landed as the second-lowest regarding ownership – potentially due to the existence of EA Sports' annual NBA Live series providing the game with some competition that the others don't face, bar FIFA with Pro Evolution Soccer, but that's rarely a close race in sales.
Finally, the die-hard fan bases who regularly buy the sports games compared to those who attend games at least a couple of times a year and those who regularly watch the sport. Once again, the NHL and the sport of hockey boasted the highest percentages in our survey for regular game purchases, live attendance, and television viewership. From there, the three parameters differ greatly from sport to sport.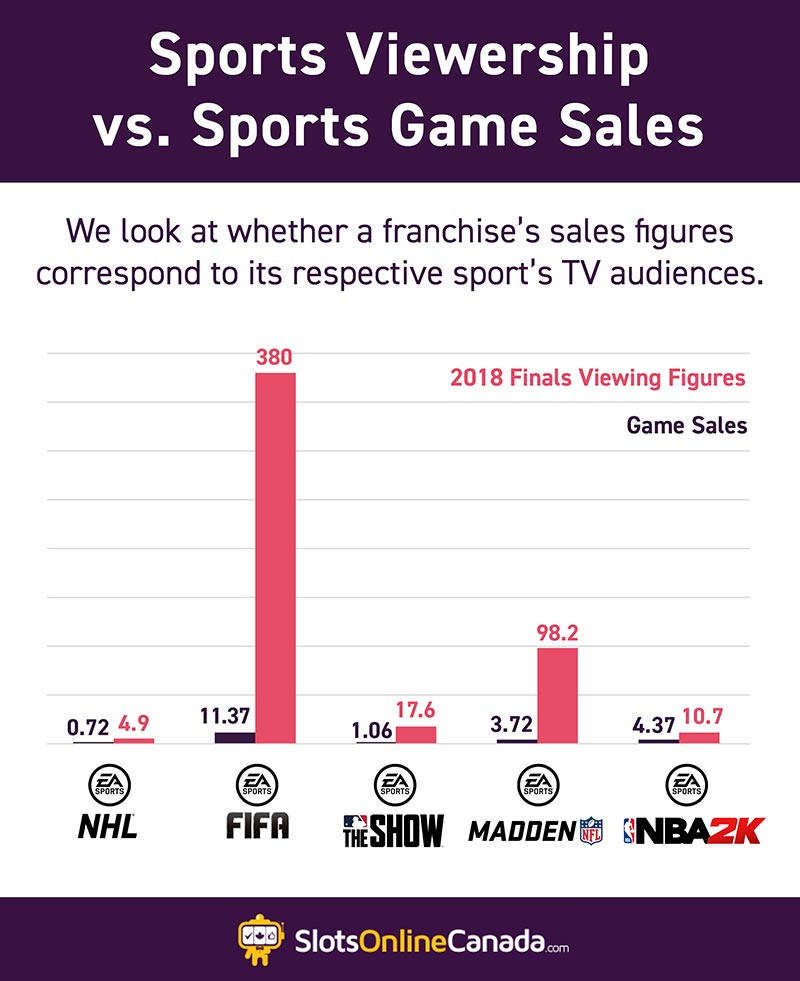 While FIFA ranks second in at least bi-annual game purchases, it is the least viewed consistently and second-least annually attended by those surveyed. While American football was the second-most consistently watched, the game in the third-most consistently brought and, as you would assume, the least attended. Perhaps indicating the quality of the game or playability of the sport in a video game, baseball was the second-highest attended, third-most consistently viewed, but came fourth in regular game purchase rate.
The figures from this study reinforce the general knowledge that hockey is Canada's favorite sport. However, it also sheds light on the sport perhaps not being as dominant as once thought, with so many participants in the survey choosing to select one of the other primary sports, both in game form and real life, or select the 'None of These' option – a percentage which almost halved between video game and real-life sports questions, indicating that many of those who responded don't play sports video games.
Canada is a wonderfully diverse country for sports fandom and video gaming, and while many different sports and game franchises have been able to stake a claim in the nation, the NHL game series and hockey are still number one.