Canada has become an international gaming hotspot. Parts of Asia, including Japan and China, have long been regarded as video gaming hubs, as has the US. However, over the last decade, Canada has emerged as a powerful player in the industry. Part of the reason for its emergence on a global scale is the number of gamers living in Canada. Between 2010 and 2015, the number of Canadians that identified themselves as "gamers" was up to 19 million. By 2018, that figure had increased to 23 million, according to the Entertainment Software Association of Canada (ESAC).
With more players, revenue has increased and in 2019 the industry grossed $3.6 billion. That's an increase of 15% over the last two years and another sign that Canadian video gaming is a burgeoning entity. With activity reaching new highs and revenue streams flowing, many of the industry's biggest brands have set up shop in Canada. As it stands, 80% of Canada's gaming sector is based in Quebec, British Columbia, and Ontario. Of those three, Quebec has the greatest output with just under 30% of all Canadian gaming studios located there.
Major Gaming Studios Flock to Canada
When you survey the high-profile studios across the country, you'll see plenty of familiar names. EA Canada is based in Burnaby and plays a major role in the production of the FIFA and Need for Speed franchises. Cross over to Toronto and you'll find the sister studio of Rockstar Vancouver. In Montreal, Ubisoft has been operational since 1997. As well as contributing to Assassin's Creed, Ubisoft Montreal has taken the lead on Far Cry over the last few years alongside its counterpart in Toronto. Rounding out the list of big-name video game brands in Canada is BioWare. This company has its base in Alberta and, since 2007, it's been part of EA. Finally, if you take a trip to Prince Edward Island, you'll find the headquarters of Other Ocean Interactive.
What's interesting about Canada's gaming scene is that it isn't all about PC and console offerings. Casino gaming developers also have a home here. The Stars Group, part of Flutter Entertainment, is the largest online casino gaming and poker company in the world. Moving down the betting ladder, Gamehost Inc, Jackpot Digital, and many other brands are putting out virtual versions of blackjack, roulette, slots, and everything else in between. Add to this a selection of online bingo sites and there's no doubt Canada is now a powerhouse in all areas of the gaming industry. The question, however, is why? Why is Canada a champion in the gaming industry?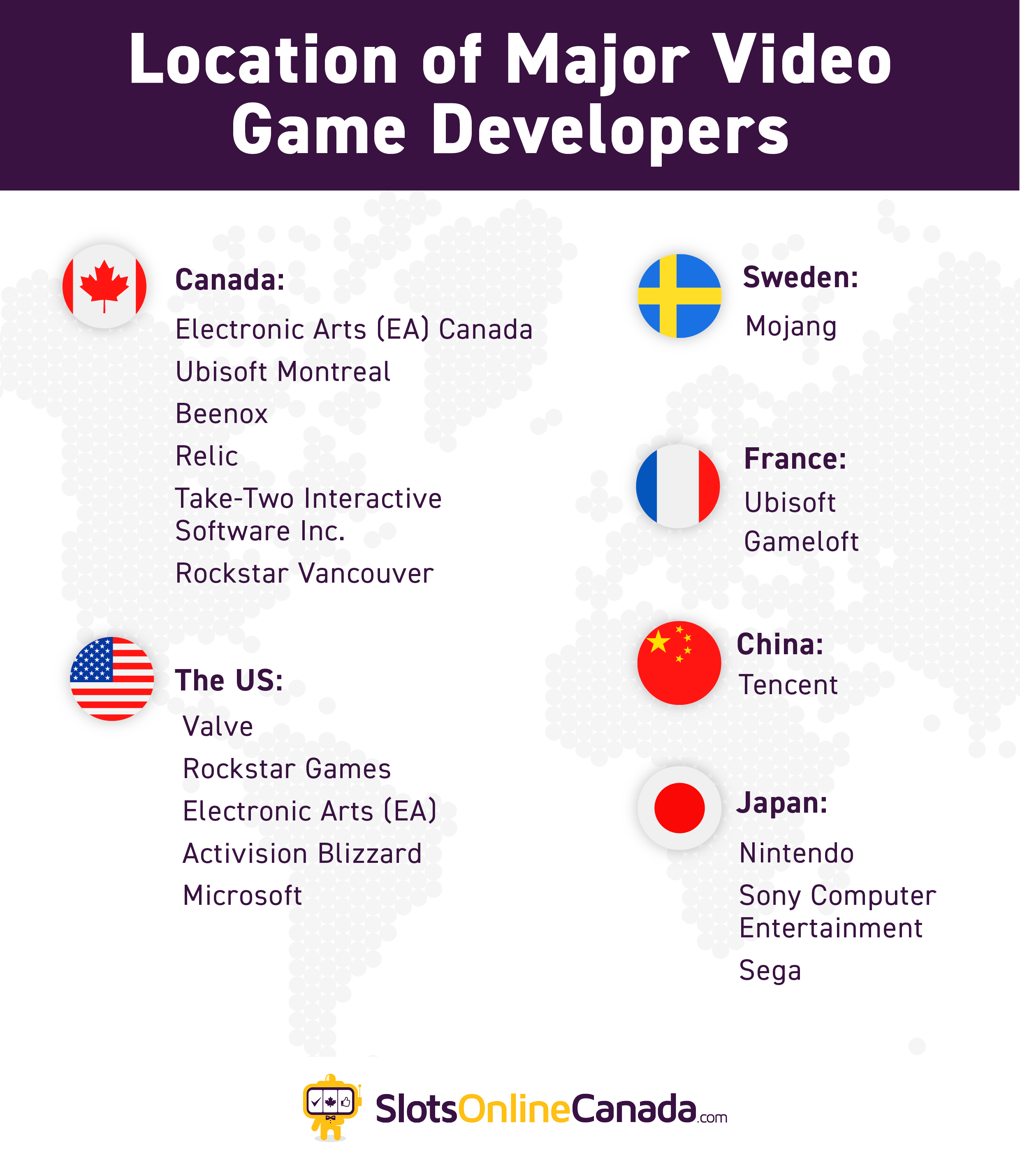 Location, Location, Location
Geography is clearly a factor. With the US as a neighbour, it's easy to forge cross-border relationships, as EA has done. Then there's the fact America is home to more than 164 million gamers, according to the Entertainment Software Association. With a ready-made and active market on its doorstep, Canada can't help but thrive as a gaming hub. However, the reasons why our country has risen to prominence in recent years go much deeper. For example, if we look casino gaming sector, the current dynamics feature a combination of private and state-owned operations. For example, Loto-Quebec takes charge of the licensing procedure in Quebec. This adds an air of legitimacy to the industry as a whole.
Then, in other states, you've got private operators that have either penetrated the gaming community from a remote location (such as the UK or Malta) or homegrown entities like Amaya. Indeed, the reason Canada now hosts the largest online poker and casino gaming company in the world, The Stars Group, is because of Amaya. Prior to a 2020 merger with Paddy Power Betfair (that created Flutter Entertainment), The Stars Group operated under the Amaya banner.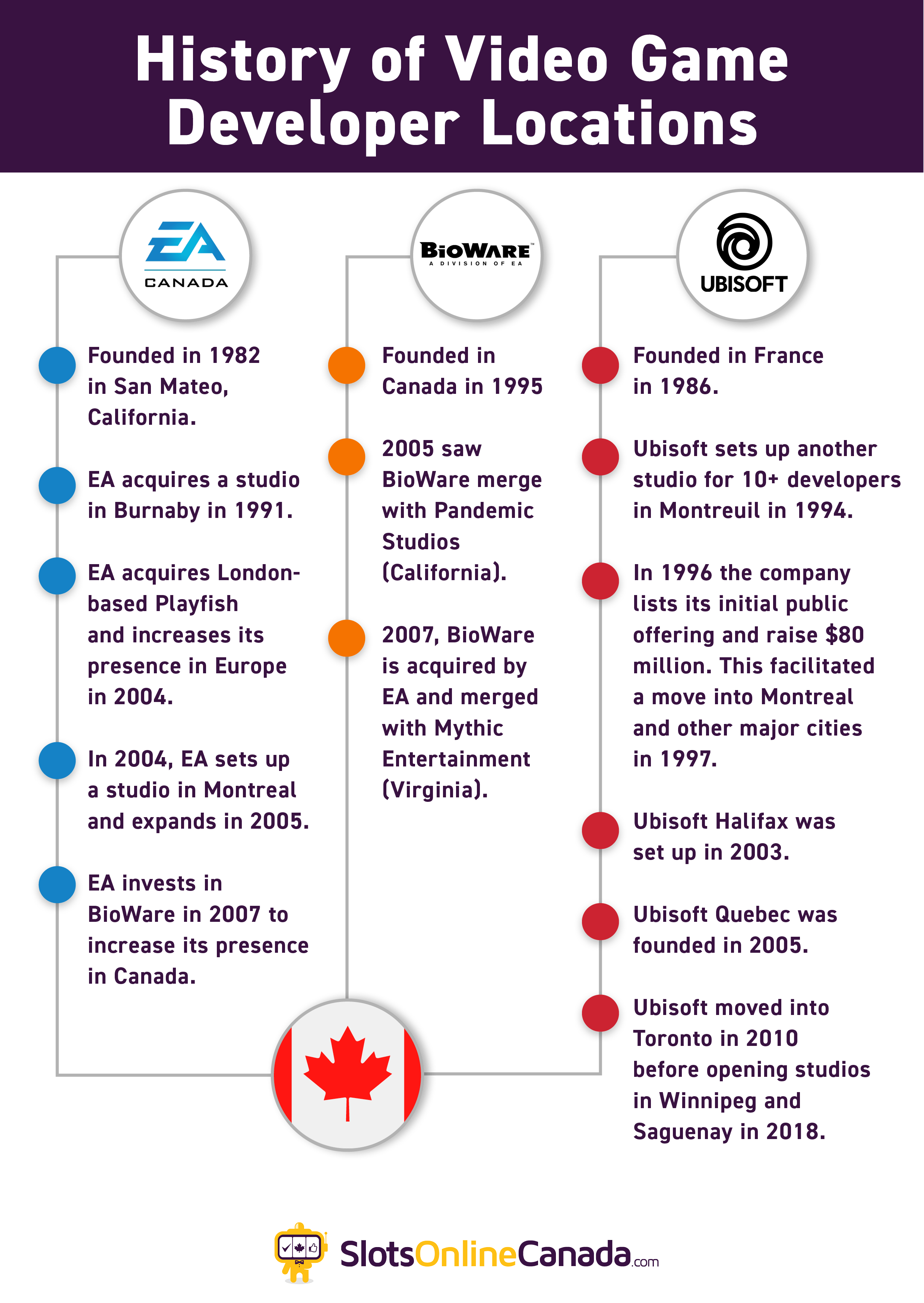 Deal at the Top Has Trickledown Effect
Amaya purchased PokerStars and its subsidiaries in 2014 for $4.9 billion. That helped shape it into a multi-dimensional platform. It also meant the company's headquarters were relocated to Canada. This not only triggered a spike in growth for The Stars Group but the Canadian casino gaming sector as a whole. With the industry's biggest player based in the Great White North, other brands wanted a piece of the action. Within a few years, the market was buzzing. Today, brands such as LeoVegas, Casumo, and Mr Green are active in Canada.
More significantly, they've made our country an epicentre for slots. Our research and reviews have found that the top three operators offer over 1,000 slots each. Add Casino Land and Guts into the mix and there are more than 5,000 spinners to choose from at just five Canadian casino sites. This proliferation of options can, in part, be linked to a trickle-down effect. A major brand entered the market in 2014 and, from there, others followed. In turn, this trickle turned into a stream of innovations that's helped Canada become a hub for online slots and casino games.
Funding Fuels Canadian Gaming Industry Growth
Moving across to the video gaming sector, funding and education have played a huge role in creating more than 200,000 jobs in recent years. The Trade Commissioner Service (TCS) has launched several initiatives designed to link Canadian businesses with foreign companies. On top of this, the Canadian Media Fund (CMF) has invested heavily in the gaming sector. Although not all of its $350 million in annual funding goes to video gaming, the CMF has helped produce games such as Outward, Dead by Daylight, and The Messenger.
In fact, as well as supporting larger studios, the CMF also has grants for start-ups and niche developers. The Canadian Media Fund: Experimental Stream program provides between 50% and 75% of the costs (up to $1.5 million) for conceptualizing and prototyping new products. There are also grants for research initiatives, as well as tax credits. Indeed, gaming studios in Quebec can receive "multimedia" tax credits, while the Ontario Interactive Digital Media Tax Credit (OIDMTC) provides rebates for certain labour costs.
Shaping and Inspiring Minds
Alongside an increase in funding opportunities are a wealth of academic opportunities. Although there were courses on video gaming prior to 2015, the number of opportunities increased dramatically after that year. The reason for the surge was a report by the Entertainment Software Association of Canada. The data showed that certain areas of development were lacking. Due to a shortage of trainee animators, data analysts, and programmers, funding was increased, and, over the next few years, more courses emerged. Today, there are dozens of colleges and universities training the next generation on all aspects of game design.
From courses on mobile game development at the Visual College of Art and Design, to a bachelor's degree in design from Sheridan College, the options are almost endless. It's this dual focus that has made Canada a champion of the gaming industry. By investing money at the top, the federal government and its provincial subsidiaries have enticed major gaming brands to set up offices in Canada. This has created a gaming "scene" and that's had a trickledown effect. Entrepreneurs and aspiring developers have seen what's possible and that's given them the inspiration to start their own projects.
Success Breeds Success as Canada Becomes Gaming Champion
Funding from the government has facilitated these aspirations and created a culture where big brands and niche studios work side-by-side. Then, as well as fostering growth at the top of the industry, the government has invested in grassroots gaming. By encouraging colleges and universities to offer courses on all aspects of the industry, it's created a steady stream of homegrown talent for studios to choose from.
The end result is an industry that's strong at the top and bottom. Although there is still a long way to go before Canada becomes the epicentre for all things gaming, it's well on its way. For a country with a population of just 37.5 million (compared to 320 million+ in America), that's impressive. However, as you can see, it's not down to luck. Yes, geography has helped but it's only a minor contributor to our success.
When the government is not only willing to remove barriers and open doors but invest in an industry, big businesses take notice. That's what happened in gaming. When things are moving at the top, everything else falls into place. Now, unlike any other time in history, Canadian gaming companies have an opportunity to thrive. From major studios to small ones, every company has a chance to find their niche and, importantly, prosper in one of the fast-growing markets in the world. For that reason, Canada really has become a champion of the gaming industry.