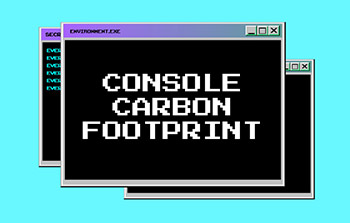 2020 is set to be a big year for the gaming industry, with the highly-anticipated releases of the PlayStation 5 and Xbox Series X expected to hit the market before Christmas. The New Year also marks a new environmental focus for 21 gaming giants like Sony, Microsoft and Ubisoft, who have pledged to reduce CO2 emissions by a combined 30 million tonnes by 2030. This will be achieved through tree-planting initiatives, energy-saving in-game nudges and improvements to packaging.
But with existing games consoles lasting for an average of six years and gamers spending roughly seven hours per week playing, we think it's important to investigate what the environmental impact of the industry has been to date – particularly in relation to sales of physical game titles vs digital downloads.
Console Carbon Footprint reveals the environmental impact of producing physical discs compared to downloading titles across various platforms, and finds out which console is the most eco-friendly to play on based on energy usage.
95.6% by choosing to download a game rather than purchasing a boxed copy, as the plastic needed for a physical unit results in 0.39kg of CO2 equivalent, while digital downloads produce 0.017kg.
Gamers could reduce their emissions further by opting to play on the PlayStation Classic, which is the most environmentally friendly console to date. The PS3 original is the most polluting platform, while Xboxes account for the highest emissions on average.
Take a look at the full Console Carbon Footprint comparison to find out more about the environmental impacts of gaming. Or, if all our talk of gaming has you wishing you could test your luck but you're not sure what you're in the mood for, take a look at our top online slots.