Gamblers have evolved since the first slot machine was introduced, and so have the slots. Many punters are no longer looking for the bare-bones slot experience. That's why software developers pack their slots with bonus features to keep players engaged.
There are thousands of online slots available, and many have unique bonus features. However, not all of them can be considered a hit. However, there are slots out there that have managed to deliver bonus features that elevate them among the rest.
Beyond the usual Scatter and Wild symbols, these games allow you to trigger bonus rounds. These bonus rounds not only allow you to maximize your earnings, but they are extremely fun to play – like a game within a game.
So which slots have the best bonus features? Here are five of them worth checking out if your favorite online casino has them.
1. Gonzo's Quest Slot Game
Gonzo's Quest, released in 2010, can be considered to be NetEnt's claim to fame. This is because it is a master class in slot design from a visual, storytelling and gameplay perspective. It tells the story of Gonzo, a Spanish explorer who stumbles on Eldorado (the lost city of gold). And it is your job to help him collect as much gold as possible.
It was the first slot to introduce players to the avalanche wheel, and the world of slots never looked back. Today, you will find many slots copying it or doing their own version. But it helps to know how it all began.
Avalanche reels are simply called cascading reels. When you score a winning combination on a bet line, the symbols disappear. Then, they are replaced by other symbols, which fall or cascade into their place.
Of course, each slot implements them differently, but in Gonzo's quest, they explode before being replaced. The animations and sound effects here are stellar.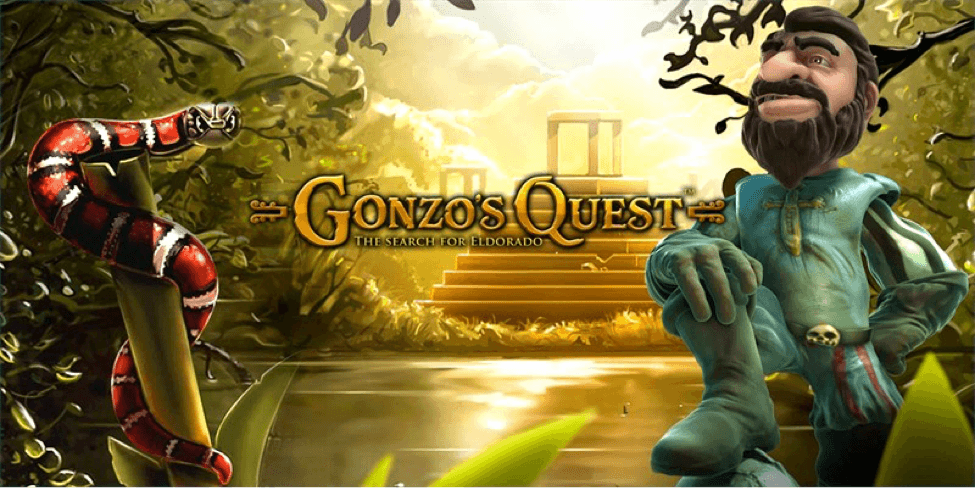 Besides that, the slot is also renowned for its 3D graphics and animations. As you play, Gonzo comes alive, moving from screen to screen in the most entertaining fashion.
There are two main bonuses in Gonzo's Quest:
Avalanche multiplayer
As you play the base game, this feature is triggered to give you an opportunity to multiply your winnings with a single spin. If the symbols that cascade form or complete a winning line, they too will explode and others will cascade in their place and so on, multiplying your winnings each time.
This can theoretically go on indefinitely, but the maximum you can expect is five times. The more multipliers you stack up, the more their effect increases and the more you win.
Free Falls bonus round
Gonzo's Quest has a Free Fall symbol, which triggers a free spins bonus round. You are awarded 10 free spins, on top of increasing the rate at which multipliers stack up. If another Free Fall symbol appears during this bonus round, you get more free spins.
2. Family Guy Slot Game
Who doesn't know Family Guy? It is a popular animated TV show for adults featuring the shenanigans of the Griffin family: Peter, Louis, Stewie, Brian, Meg and Chris. The show is wildly popular, spawning 19 seasons.
So, of course, they will make a slot based on the game. And it was developed by IGT.
This is your standard five-reel, three-row slot but it has 30 paylines. All six main characters appear as symbols, along with their friends and neighbors. What will excite fans of the show, even more, is that the slot features music from the show, as well as sound effects.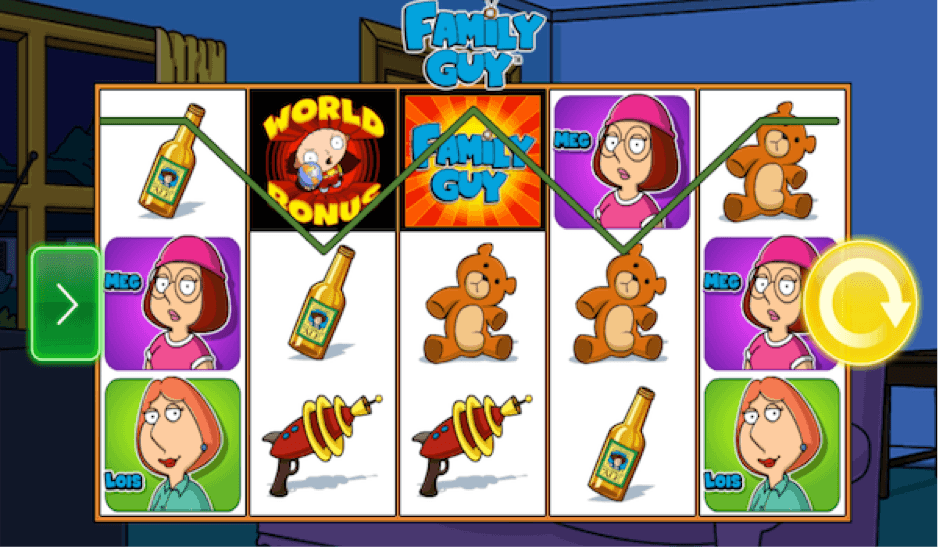 There are three bonuses in the Family Guy slot which are all part of what is known as the World Bonus. To trigger them, three World Bonus symbols need to appear on the screen. Then, Stewie will spin the globe that appears and, depending on where it lands, one of these bonus rounds will be triggered:
Drunken Clam
This bonus round features Peter and his friends: Quagmire, Cleveland and Joe. You choose one of them and they must drink until the last man is standing. There are 10 rounds and characters drop one by one as they reach their limit, awarding you a multiplier.
It is only game over when your player drops, but to get the maximum multiplier, your pick must be the last man standing.
Chicken Fight
This is a deathmatch between Peter and a chicken (you have to pick the one you think will win). There are three rounds in total and you get a 4-7x multiplier if your chosen fighter wins and a 1-3x multiplier if they lose.
Louis' Hot Free Spin
This round awards you 10 free spins. As you spin, if a Quagmire symbol appears, you get an extra five spins.
3. The Dark Knight Rises Slot Game
The Dark Knight Rises is the final film in Chris Nolan's Batman trilogy. In the movie, Batman fights against Bane for control of Gotham City. And this was the first time viewers got to see Catwoman in this universe, who also appears as a symbol.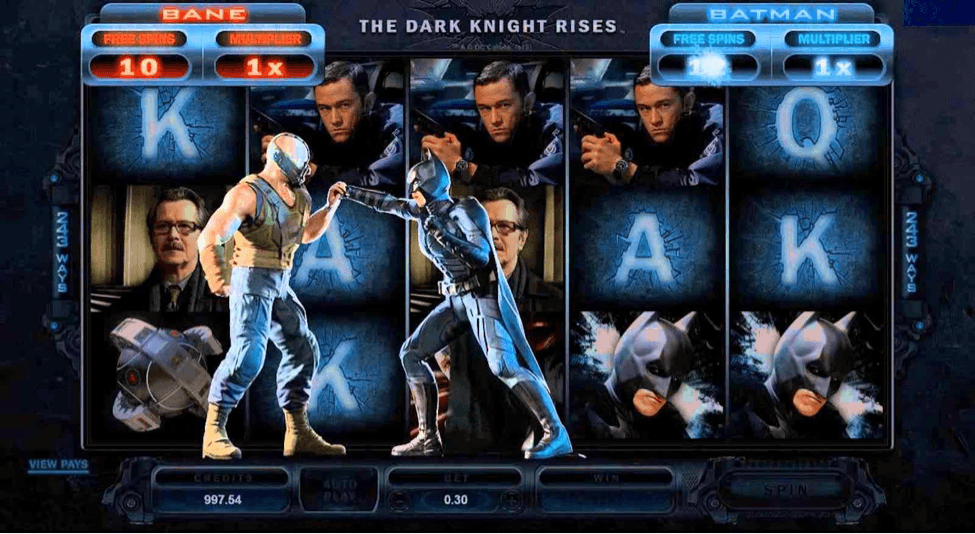 This slot was developed by Microgaming. It also features five reels and offers the player 243 paylines. The Dark Knight Rises features the following three bonus blockbuster features:
Fight Mode
This mode is interesting, intricate, and fun. This is essentially the free spins round, which is triggered when three or more Scatters appear on the screen. Then, you get to see Batman and Bane duke it out in Gotham City.
If you choose Batman, you get the Batman Extra Wild Blast feature, and if you choose Bane, you get the Bane Rolling Reels feature. During the fight, you will either be awarded extra free spins or multipliers, depending on how your chosen fighter is performing.
Symbol Scramble
As the name suggests, the symbols on the reels are scrambled, each moving to a random position. This shuffle can allow you to score a winning combination if you're lucky. This feature will trigger randomly on any non-winning spin.
Expanding Wild
As you play the base game, this special Wild symbol will appear on the third real. As you continue to play, it will expand to fill the reel, increasing your chance of scoring a winning combination.
4. Pink Panther Slot Game
Playtech's Pink Panther slot machine is actually based on the kid's animated cartoon instead of any of the movies. It features the famous Pink Panther, who is constantly annoyed and frustrated by humans who want to disturb his peaceful existence. Apart from thieves, the biggest thorn on his side is The Inspector or Jacques Clouseau.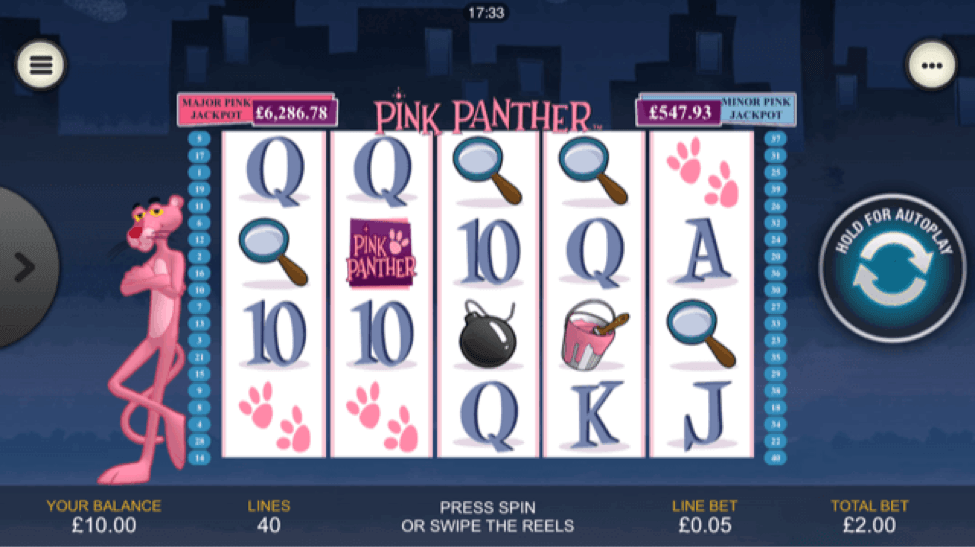 Pink Panther is a five-reel slot with 40 paylines. It also has the Major Pink and Minor Pink progressive jackpots. But best of all, it has a slew of exceptionally good bonus features.
Here are the features:
Pink Pow!
This is a random feature that happens at any time during the game and is impossible to predict. Once triggered, the Pink Panther himself will come out of hiding and blow up 2-3 symbols. This will turn them into wilds, allowing them to form winning combinations.
Crack The Pink Code
This one is also randomly triggered like the Pink Pow! This feature brings up 10 safes on the screen. Depending on which you choose, you will either get a multiplier, free spins and an Expanding Wild (this will appear on the third reel).
If a safe contains dynamite, the round is over. However, you still get two free spins, which will trigger the free spins round.
The Color Pink
This feature, also triggered randomly, gives you the chance to win instant cash prizes. Here, Pink Panther and The Inspector will paint either a blue or pink number for three turns. The pink numbers are the ones that win you a prize.
Wheel of Pink
As you may have guessed, this is triggered randomly. The Pink Panther spins two wheels – one in and one outer wheel. The outer wheel awards you cash prizes and the inner wheel gives you the chance to either spin the wheels again or collect your earnings.
Pink Trail
For a total of five randomly-triggered bonuses, Pink Trail follows The Inspector on his hot pursuit of the Pink Panther. You have to guide him as he discovers footprints that give out instant cash prizes. Then you are asked if you want to continue following the trail or collect your money. This goes on for four rounds.
However, not all footprints are rewards. Some are traps that cut the money you've collected so far in half.
5. Guns N' Roses Slot Game
Developed by NetEnt, the Gun N' Roses slot is a celebration of the band's 30-year history. With over 100 million records sold across the globe, there is no denying that this American Band is one of the greatest of all time. This has made band members, such as Slash and Axl Rose, icons.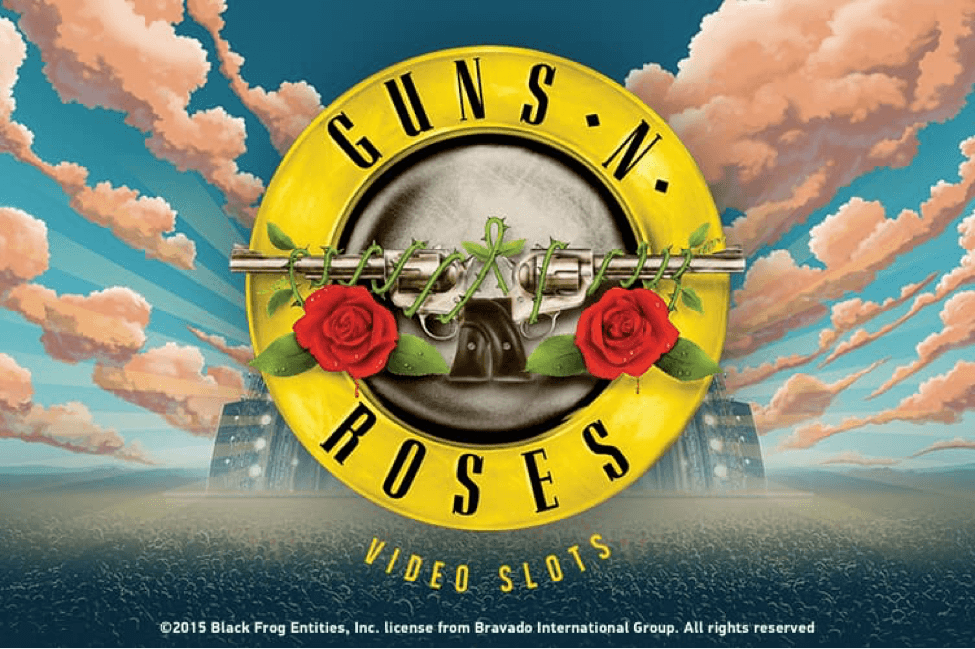 The game features five reels and 20 paylines. Also, it has the following amazing bonus features:
Expanding Wild
This works just like the expanding will for The Dark Knight Rises and The Pink Panther. However, there are some symbols that it cannot substitute itself for: the Appetite for Destruction Wild, overlay Stacked Wild (Encore Free Spins) and overlay Wild (Legend Spins).
Legend Spins
This feature is randomly triggered and awards you three free spins. Depending on your luck, you will either get 1 or 2 stacked wild reels.
Appetite for Destruction Wild
The feature randomly places a full or partially full overlay Wild on the reels. This will substitute itself for any symbol in the game – no exceptions.
Solo Multiplier
If you get three or more matching symbols on a bet line, this feature can activate. It awards you a multiplier between 4X and 10X.
Multi-Award Bonus Wheel
To activate this feature, the bonus symbol needs to appear on the first, third and fifth reel. This unlocks the following bonus features at random:
In Conclusion
As far as slots having the best bonus features go, these are the cream of the crop. Of course, there are more games out there. Remember, not all of them will be winners in terms of bonus features. But if you want to narrow down your list, you're better off starting with these five games.