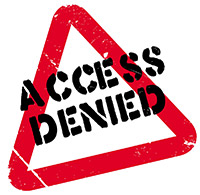 Self-exclusion is something that is often misconstrued by the public as something which casinos use to take fare winnings away from gamblers. However, it does serve an essential purpose of ensuring those gamblers who have identified signs of addiction can put measures in place to stop themselves. In this article I will speak about a few tips on self-exclusion and how they can affect your winnings.
Important
It's really important to familiarise yourself with the below information as it could have a massive impact on your gambling activities.
What is self-exclusion?
So, what exactly is self-exclusion? In short, it is an agreement made between a gambler and the casino whereby the player bans him or herself from the casino. This is usually done where a gambling addict does not want to fall foul to their lack of control in situations where they find themselves chasing losses. For casinos it is an active effort to limit the negative effect that gambling can have on problem gamblers.
How does it work?
In order to utilise the self-exclusion process the gambler contacts the casino and makes the necessary requests. This is a voluntary process and requires the initiative of the gambler to first identify their problem and then reach out to the online casinos in question, to gain some outside assistance. The self-exclusion will effectively forbid the user from accessing the casino and the services they offer for a certain period of time. This period is determined by the user according to how long they wish to be excluded. The effect of self-exclusion is that the casino will remove your personal details from their system, return your funds to your bank account and close your account. This process is irreversible so one of the most important tips on self-exclusion is to ensure the gambler knows and understands the implications of what they are agreeing to, as it may lead to unfortunate events.
Why you should familiarise yourself with the implications of self-exclusion
As with all instances in the igaming world, it is advised to know the rules and procedures and to know them well. This brings to mind a rather unfortunate event occurred in 2017 when an elderly man from Ontario had to forfeit his $10 000 jackpot winnings due to a self-excluding clause entered into with the casino years prior. John Marando had identified signs of developing a gambling problem 17 years earlier and had signed a self-exclusion agreement with the Mohawk racetrack in Ontario.
When he won the once in a lifetime jackpot his initial joy was soon replaced with disappointment when he was informed that he was ineligible to collect his winnings. This was due to new rule passed by the Ontario Lottery and Gaming whereby "self-excluded individuals are not permitted to win prizes". This was in support of the commitment to assist problem gamblers who have self-excluded themselves to stop gambling. Instead of splurging out on some bucket list activities the elderly man was escorted off the premises and sent home. He should've definitely taken the time to read up on some self-exclusion tips beforehand!
Is Facial recognition the way forward?
This event occurred at a land-based casino, but the same is being implemented at online casinos. The fact that players rarely come face to face with the casino operators makes self-excluding slightly more difficult. For example, there is nothing stopping the self-excluded gambler from creating a pseudo name and carrying on gambling. Some of the more forward-thinking sites have begun rolling out facial recognition technology to assist with this. This would, of course, make it far more difficult from a self-excluded gambler from re-entering a gambling site.
For those sites that have both a land-based and online presence the use of facial recognition can be used to match on-site security footage with a facial snapshot from a pc or mobile device. This technology is of course still rare and can be only found in a handful of sites who have made it a priority to enforce self-exclusion measures.
The current state of affairs. Is self-exclusion a good or a bad thing?
Despite the good intentions of industry regulators and casinos, the feedback has been largely negative. Marando had appeared disgruntled in an interview when he commented "the casino didn't have an issue with taking my funds for all these years, but when the tables were turned, they didn't want to pay!" He certainly has a point. Apart from Marando, there have been 29 reported cases since the new rules have been implemented of people being denied their winning as a result of a self-exclusion agreement entered with casinos. It is a tricky situation with strong arguments from both sides.
Despite these winners being denied these earning one must look at the overall implications of the strict enforcement of these rules. Yes, these individuals, who are problem gamblers, may have won a hefty amount now, but this doesn't mean they do not have a gambling problem. Their $10 000 winnings today may be reduced to a loss of $20 000 in the following weeks because they do not have the self-control to call it a day. This is why the strict enforcement of these rules must be carried out despite a few broken dreams.
Conclusion: some final tips on self-exclusion
In conclusion, we can now see how important it is for gamblers to ensure that they know the implications of a self-exclusion agreement and to familiarise themselves with self-exclusion tips. There are in fact fewer extreme measures that gamblers can implement to ensure that they do not develop a gambling problem. These methods may even work better for some while limiting the consequences which have been highlighted above. Keeping in mind these self-exclusion tips it is always best to seek professional help. This will ensure that you are taking the right measures to safeguard yourself. At the end of the day gambling is a past time that is best enjoyed responsibly!