It's no secret that casino owners make serious real money at casinos, with some raking in millions of dollars on a daily basis! They also tend to spread their empires far beyond the realms of gambling and casinos – into banking, tourism, construction and whatever else strikes their fancy. We take a look at the current heavy weights in the casino world according to their net worth, in descending order:
1. Sheldon Adelson – $42.9 billion USD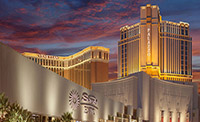 A clear head and shoulders above his fellow tycoons, is Sheldon Adelson, CEO and Chairman of Las Vegas Sands. Just to give you an idea of the enormity of his wealth – Las Vegas Sands makes around $32 million every day, making its value greater than all of the other US casinos put together! Sheldon, who never finished college, first became a millionaire at the age of 30. The Sands Hotel & Casino was his first casino purchase in 1988, and today his assets include the Venetian, The Marina Bay casino, The Palazzo, The Sands casino in Pennsylvania and the Venetian Macao casino resort which are amongst the biggest and best-known casinos in the world. Aside from the gambling industry, Sheldon's interests also include philanthropism and political activism.
2. Dr. Lui Che Woo – $21.6 billion USD
82-year old Galaxy Casino chairman, Dr. Woo, is a relative newcomer to the casino industry. He entered the scene in 2011 with the opening of the Galaxy Macau Casino Hotel. His original fortune was accumulated in the leisure, entertainment, construction, hotel and real estate arenas. The impressive Galaxy hotel features 2200 bedrooms, 50 restaurants, 450 gaming tables, a wave pool and an artificial beach. This multi-billionaire also dedicates his time to philanthropic causes, particularly those focused on the development of medical care and education.
3. John Paulsen – $7.8 billion USD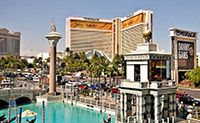 The MGM Mirage operates 10 Strip resorts, along with casinos in Reno, Macau, Detroit, and Mississippi.John Paulsen is undeniably an investment god. The Harvard educated businessman specializes in mergers and acquisitions, particularly on the casino front. His latest acquisition through his New York based hedge fund involves 40 million shares of MGM Mirage as well as 4 million shares of Boyd Gaming Corp. – making him the second largest MGM shareholder behind its founder, the late Kirk Kerkonian. When John isn't busy brokering multi-million-dollar deals, he likes to spends his time and money on charitable events and even dabbles in politics.
4. James Packer – $4.1 Billion USD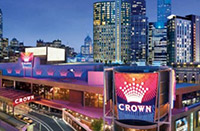 Our next ultra-rich entrant and ex-fiancé to songstress, Mariah Carey, hails from the wonderful land down-under. James Packer, who inherited his early fortune from his father, opted to invest it in creating a world-wide gambling empire and boy did it pay off! He presently owns and chairs Crown Ltd – one of the biggest resort and entertainment groups in Australia that is worth more than $11 billion. He also owns casinos outside of Oz, such as Aspinalls casino in the UK, the Cannery Casinos in Pennsylvania and Nevada, Betfair Online Casino in New Jersey, the Crown Casino in Sri Lanka as well as shares in the Macau-based gaming group, Melco-Crown. A fun fact about this casino magnate is that he spent his youth working as a jackeroo in a cattle station!
5. Kunio Busujima – $4.9 billion USD
Kunio Busujima is the chairman and founder of Sankyo manufacturing company in Japan. Interestingly, gambling isn't legal in Japan, yet Kunio makes it onto our list. How? Because Sankyo is the biggest manufacturer of Pachinko machines (the equivalent of slot machines) and Pachinko Parlors (which feature all throughout Japan) operate in much the same way as traditional casinos. The Pachinko machine sports a pinball-like design, except that it has a vertical layout. Players shoot a small ball through a chute and prizes are won as the ball makes its way downward through a series of pins and lands in a particular location.
6. Steve Wynn –- $3.4 billion USD
Steve Wynn is probably the richest casino owner in Las Vegas and also responsible for the trend that shaped Sin City into the flashing neon-light adult playground it is today. It was Steve who built the first themed casino, the Mirage, in 1989. At a cost of $630 million it was the most expensive casino built for its time. His other famous Vegas casinos included Treasure Island, Encore, Wynn, Bellagio Casino Hotels and the Golden Nugget. Steve's other big passion in life is fine art and his prized collection includes pieces by masters such as Van Gogh, Cezanne, and Gauguin.
7. Donald Trump - $3 billion USD
Current president of the United States, Donald J Trump, started his journey as a business tycoon when he became head of his family's real estate business in 1971. The Trump Organization as it then became known rapidly expanded into the construction and renovation of skyscrapers, hotels, casinos and golf courses. In addition, Trump also owned the Miss Universe and Miss USA pageants and hosted a reality TV game show called The Apprentice from 2005 to 2013. Under the company Trump Entertainment Resorts Inc. Trump owned various casinos including Trump Plaza, Trump's Castle, and the Trump Taj Mahal and riverboat emporium. Today, due to bad debt and financing issues, the company only owns the Trump Taj Mahal in Atlantic City.
8. Phil Ruffin - $2.8 billion USD
For a big shot casino mogul, American businessman Phil Ruffin leads a relatively reclusive life away from the public eye. It was the purchase of a gas station in the early 50's that marked the beginning of Phil's empire that would go on to include over 60 gas stations and convenience stores as well as several hotels. Although he was already doing well in life, Phil achieved even bigger success when he entered the gambling industry in 1995 with his first casino purchase – the Crystal Palace resort and casino in the Bahamas. It was in 2007 that Phil Ruffin officially hit billionaire status with the acquisition of the New Frontier Casino. Another notable purchase is that of the Treasure Island Hotel and Casino in 2009 from a struggling MGM Mirage, a move which more than likely saved hundreds of casino staff from unemployment. In addition, Phil shares 50% ownership of Trump International towers and also has business interests in greyhound racing tracks, distribution, truck manufacturing and oil production.
9. Stanley Ho – $2.5 billion USD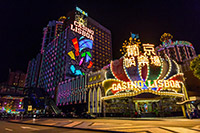 The King of Gambling. The Godfather. The King of Macau. These are the nicknames our next casino billionaire goes by. Stanley Ho has ruled the gambling scene in Macau – the biggest gambling city in the world – for more than 40 years. His domination was secured when he won a public tender in 1960, granting him the exclusive right to all Macau casinos. The 92-year old Ho was born in Hong Kong but fled to Macau with his family after their home was invaded by the Japanese during the second world war. The war was also fortunate for Stanley, as he started to build his fortune during this time by smuggling luxury items over the Chinese border. Today Ho controls 15 of Macau's 18 casinos of which Casino Lisboa is the highest grossing casino in the world. His other business interests include horse betting, greyhound racing, and lotteries.
10. The Fertitta brothers, Frank & Lorenzo – 2.2 billion USD each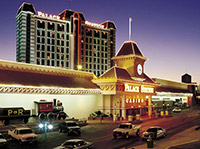 Frank Fertitta III and younger brother Lorenzo Fertitta are best known for their success in Nevada's casino and hotel industry. The brothers inherited station casinos from their father, Frank Jr., who helped to establish it in 1976. Wanting to create wealth in their own right, the brothers set their sights on launching their own companies. They started renting out pay phones, then leasing out poker machines and eventually buying the bars where the machines were placed. The siblings continued to expand in real estate that would become future casinos. The gambling scene isn't the only source of the brothers' success, they are also well-known for their passion in the Mixed Martial Arts (MMA) promotions arena. Just recently they sold off their remaining shares in the Ultimate Fighting Championship (UFC) for a tidy little sum of $5 billion.