Everyone has a TV show that they wish had stayed on our screens - whether it's one that was cancelled prematurely, or one that had plenty more plot to cover.
Here at SlotsOnlineCanada, we wanted to identify which popular TV series fans most want to see make a return, as we know it's a gamble around if a show can survive a reunion or if fans would prefer to see it finished on a high.
We conducted an online sentiment analysis via Twitter and Buzzsumo article reactions over the last year, looking at a potential reunion of the world's most popular shows that are no longer on our screens, to see which fans were the most receptive to, and which series are best left in the past.
Twitter's Most Anticipated TV Reunions
Looking at Tweets around potential reunions reveals that it's Buffy the Vampire Slayer (1997-2003) that fans are most keen to see make a return, as it saw the highest influx of positive Tweets over the last year - despite ending 18 years ago.
The online analysis involved looking at Tweets made around potential reunions of the world's most popular TV shows, and assigning a positivity/negativity score to each.
While Buffy took the top spot, other shows that fans were keen to see return included sitcom Community, which was cancelled in 2015, and Breaking Bad, which ran from 2008 to 2013, as well as That '70s Show (1998-2006).
This suggests that the longer-running shows are the ones that fans most want to see back on screens - ideally those that are comedies or that feature comedic elements - as other shows like Hannibal scored comparatively low with fans.
Most Popular Reunions Online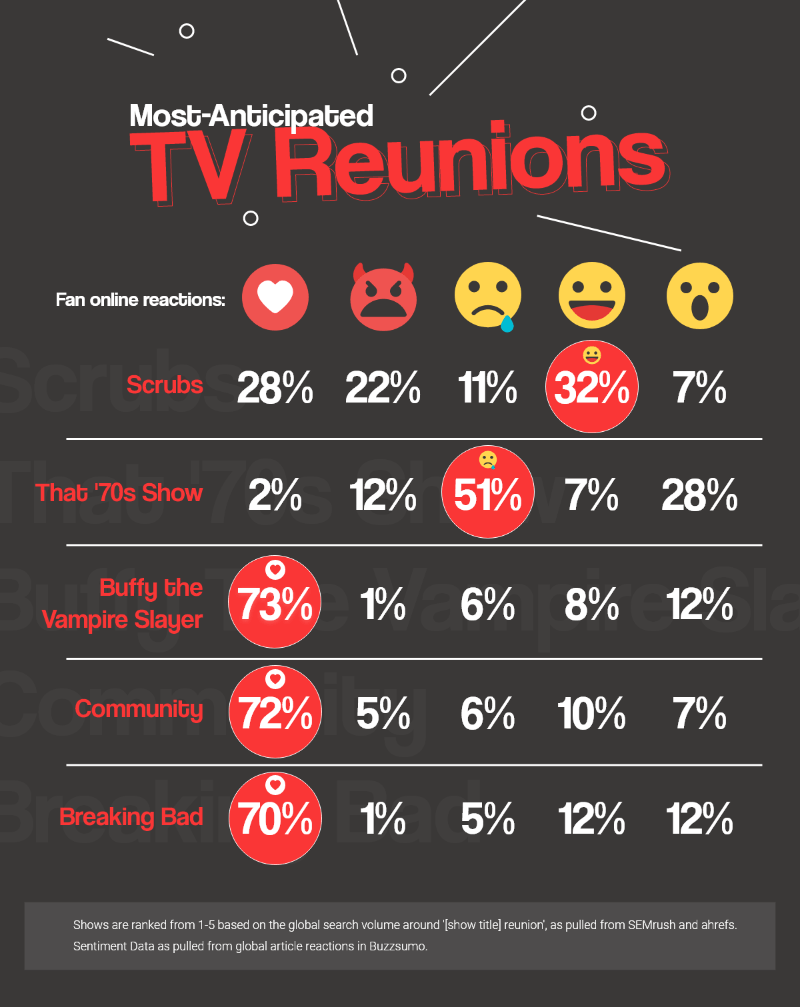 As well as looking at fans' reactions on Twitter, our analysis looked into engagement rates and emoji reactions to online articles covering potential reunions, pulled from Buzzsumo.
This analysis showed that again, it's Buffy the Vampire Slayer that fans are the most keen to see return, as it boasted an impressive 73% 'love reaction' rate.
Other shows that fans want to make a return include New Girl (81% love reactions), The Fresh Prince of Bel Air (89% love reactions) and Hannibal (70% love reactions).
Interestingly, despite the Twitter findings, fans were the least receptive to a potential That '70s show reunion - likely due to controversies surrounding key cast members - and the US Office, with fans feeling that the show had run its course and ultimately ended on a high.
What's interesting to see is that the appetite for fans that prove to be cult classics - such as Buffy the Vampire Slayer - hasn't subsided after more than a decade of these shows being off our screens, suggesting that there's a huge earning opportunity for previous cast members and producers alike.