Microgaming is one of the most renowned online casino games developers in the industry. Every time they release a new title, you can rest assured that it will be an absolute bomb of a game, and Burning Desire Online Slot is the perfect example of that statement. It's a solid, simple, and yet exciting 5-reel video slot that provides players with a staggering number of 243 possible winning combinations.
Long story short, it offers an excellent opportunity to those with a burning desire to win great prizes when gambling online (pun intended). How does this online slot machine work, though? What are its features? And most importantly, how to win real money playing it? This guide will provide you with all the answers!
What Is Burning Desire Online Slot?
Essentially, Burning Desire is a classic 5-reel online video slot. Developed by Microgaming and released in 2009, the Burning Desire online slot has gained quite a reputation in the online gambling community. It owes its success mainly due to straightforward gameplay and a remarkable number of 243 winning combinations, providing a fun and exciting gaming experience.
Burning Desire's design is also one of its strengths. It's clear to see that the 90s inspired developers at Microgaming. And frankly, they did a pretty good job, to say the least. When playing Burning Desire, it's impossible not to feel that nostalgic vibe. It's as close to the vintage Vegas experience as an online slot can take you.
On the other hand, the design might seem a bit dated, especially when compared to more advanced online slots developed more recently. The gameplay itself also doesn't offer anything groundbreaking. Burning Desire utilizes a standard 5-reel and 3-row layout. On the reels, you will find all the classic slot machine symbols (lucky 7s, bells, and playing cards from 9 to Ace).
As for volatility and RTP (return to player), Burning Desire is a medium volatility slot with the RTP at 96.16%. It means that the payouts occur relatively regularly, although they aren't overly excessive. RTP of 96.19%, on the other hand, means that for every $100 wagered, you can expect a return of approximately $96 in the long run.
How to Play Burning Desire?
To answer how to play the Burning Desire slot machine, we need to take a deeper look at its gameplay and basic features. Don't worry, though. Playing Burning Desire is incredibly straightforward, regardless of your experience in online slots gaming.
Gameplay
The first thing to do is adjust the amount you wish to bet - from $0.25 to $225. For that, click on the coin icon on the bottom right side of the screen. Once you're happy with your wager, click on the 'spinning arrow' icon (it looks like a refresh icon) to spin the reels once. If you want to save some time when spinning multiple times, there's an autoplay icon above the spinning button. There, you can adjust the number of spins you want the game to do instead of doing each one separately yourself.
You win every time you hit one of the 243 winning combinations. Of course, each one guarantees a different payout, but considering how many of them there are, practically every spin should generate some return. There is also a Free Spins feature you can trigger when spinning the reels, but we'll discuss them further in a moment.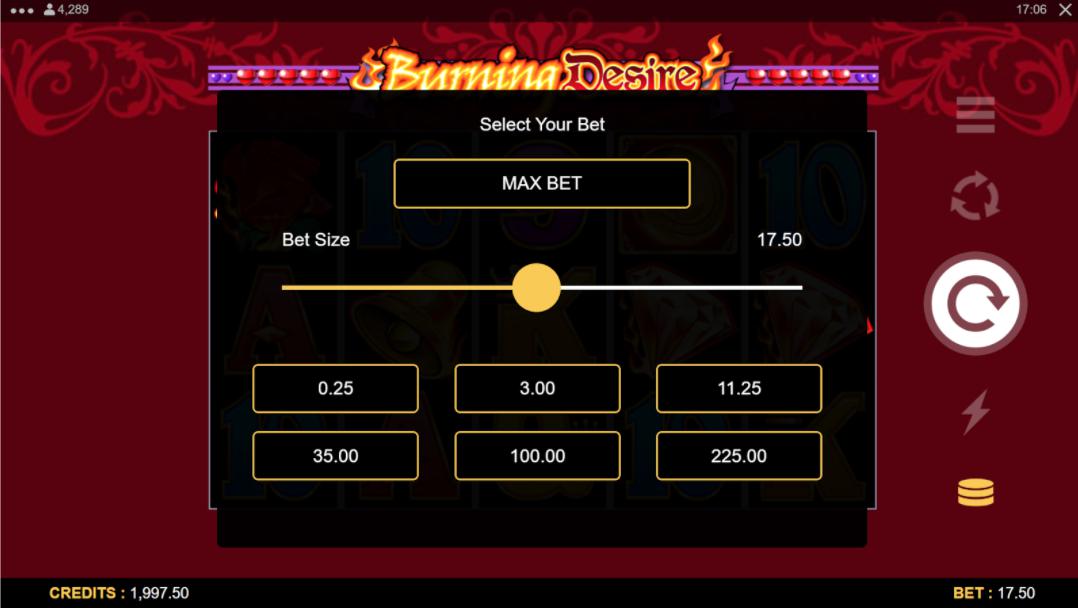 Features, Symbols, and Winning Combinations
As covered, Burning Desire is a standard 5-reel video slot machine. There are 243 winning combinations that generate various outcomes, and you can score them once symbols on the reels align appropriately.
Now, speaking of symbols, Burning Desire provides a mix of all-time poker symbols with cards from 9 to Ace and Vegas-like symbols like Diamond, Seven, Bell, and Bar. All these are standard symbols that align in winning combinations. There's also a wild symbol that substitutes for others (except scatters). In this case, it's the Burning Desire Symbol.
The scatter symbols are represented by the Coin. Hitting three or more scatters in the spin triggers free spins while paying a maximum of 100x your bet if there are five of them.
When it comes to winning combinations, the highest paying symbols are Diamonds, 7s, and Coin Scatters. Hitting two or more of these on the first to reels guarantees a win, whereas, for the other symbols, you need to hit at least three to win.
The maximum number of symbols that can align in one spin round is five, with the payout depending on the symbol. For the maximum of five symbols, you can expect the following payouts:
Diamond - 120x
Coin Scatter - 100x
Seven - 80x
Bell - 60x
Bar - 30x
Rose - 20x
Ace and King - 8x
Jack and Queen - 6x
Nine and Ten - 4x
How to Win at Burning Desire Online Slot?
Since it's an online slot machine we're talking about, there's no such thing as a winning strategy here. Like other slots, Burning Desire operates on luck, and there's nothing one can do to boost their chances in any way. However, it doesn't mean there aren't a few good practices you can implement to your gameplay to ensure you at least don't lose everything in one go:
Understand the rules: Burning Desire might be a straightforward game, but it's always a good idea to look at the rules to ensure you understand everything and avoid any unpleasant surprises.
Study the paytable: Learn as much as possible about payouts and winning combinations. This will help you calculate your approximate chances and therefore help you decide how much money you can bet.
Manage your bankroll: Set yourself a sum you intend to spend on playing Burning Desire and stick to it. Make sure you don't exceed it or try to get your lost money back by betting more.
In Conclusion
Burning Desire Online Slot is another addition to the excellent collection of slot games provided by Microgaming. This classic 5-reel video slot will certainly not disappoint, providing you with a fantastic experience, no matter whether you are an experienced gambler or a beginner. However, if you are looking for something more advanced, we suggest you search elsewhere. Be sure to check out our list of real money online slots for reference!
Related article: Burning Desire Online Slot Game: If You're a Burning Desire Fan, You Have to Play!