A soothing swim is a perfect way to unwind after a long day at the office or the hectic schedule of family life, and you'll be transported deep beneath the waves as soon as you open Microgaming's Mermaids Millions. As you search for treasures, you can spend your time with a wonderfully portrayed ensemble of aquatic neighbours.
Microgaming's Mermaid Millions slot machine, which was released more than 15 years ago, puts you under the water in a game that appears to be primarily influenced by Disney's The Little Mermaid. Mermaid Millions has endured the test of time as a straightforward yet reliable mermaid slot game.
You might not believe there's much going on beneath the sea's surface, but once you start playing Mermaids Millions, you'll quickly learn that the ocean depths are home to a trove of treasures. Gold, pearls, and priceless jewels are waiting for you, promising immense prosperity and a plethora of good fortune. As you spin the reels, you'll come across scatters, wilds, free spins, and even a thrilling bonus round. Read on to discover why this Mermaid Millions free slot game has stayed so popular.
How to Play Mermaids Millions Slots Game
Mermaid Millions is a standard 5-reel slot that you'll find plenty of at online and land-based casinos. It contains 15 fixed pay lines over three rows, and you can adjust your stake by clicking the coin stack in the bottom right corner.
The game itself is quite appealing, with a variety of symbols and a few nautical twists on the standard A, K, Q, J, and 10 symbols seen in many slot games. It's not going to win any prizes for its aesthetics or sound, but we wouldn't expect it to, given that it's a 15-year-old slot.
This Mermaids Millions slot game contains a few useful additional features, including free spins round and a pick 'em minigame, which we'll go over in more detail below.
Mermaids Millions allows players to select their stake every spin anywhere between $0.15 and $75, which is a reasonable range for most gamers. Only those willing to stake hundreds of dollars on a single spin should look for a different game.
Making a Betting Decision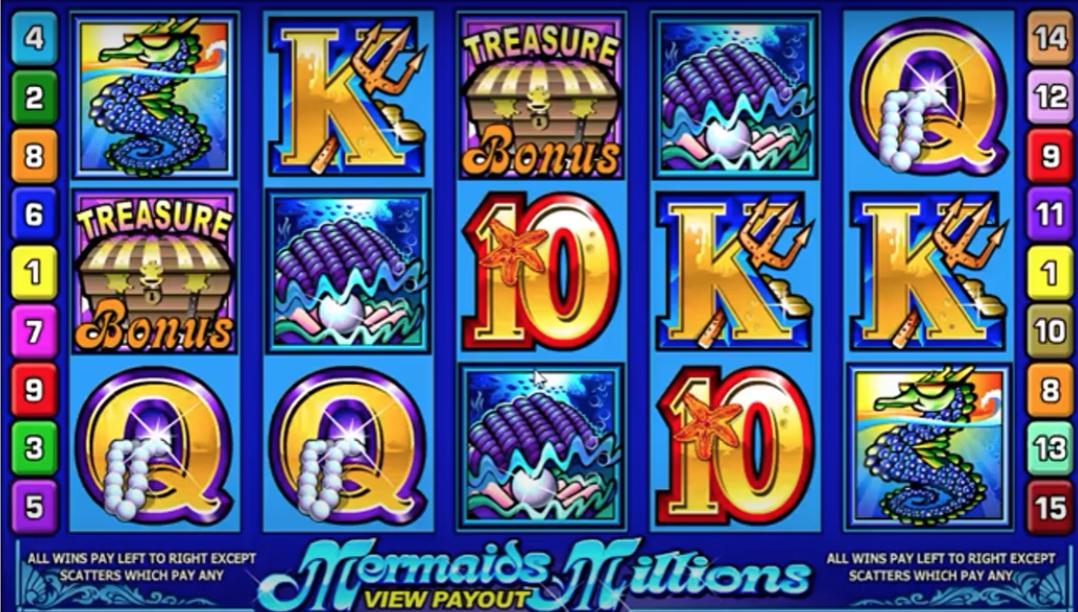 First and foremost, you must select the coin you wish to play with, which can range from 1 penny to 1 dollar, depending on your mood and how strongly you believe luck is on your side. As you progress through the player controls, keep an eye out for the 'Coins' button. You can choose the number of coins you want to bet on each spin here. Decide on the number of lines you'd want to play, anywhere from one to a maximum of fifteen.
Mermaid Millions Slot Machine's Features
Mermaid Millions is one of the easiest to play free slots games with some great features. These include:
The scatter symbol in this slot is a mermaid. You may trigger the free spins feature with this one. If you get more than three mermaids, you'll gain a bonus of 10 free spins. How awesome is that? What's more incredible is that all of your scatter wins will be doubled by the total number of credits you staked. The credit staked is multiplied three times!
The wild symbol, which in this case is the Neptune trident, replaces all other symbols, except for the mermaid and the treasure box. When the symbols are replaced, and similar symbols appear across the reels, your chances of winning grow dramatically. More interesting is that if you are able to get 5 Neptune symbols in a continuous sequence, then you will get yourself a jackpot of, wait for it, 7,500!
However, the bonus symbol has got to be the bringer of all the thrills in this game. If you are lucky enough to get more than three treasure chests on active pay lines, you will be taken to the bottom of the ocean, where all the treasure lies. There, you will be allowed to pick a number of treasure chests depending on the combination you achieved on the reels. If you got three treasure chests, then you will get to choose from that amount of treasure chests. Depending on the bonus symbols you triggered, you will receive a reward from the treasure box you selected.
Mermaids Million Slot Game Tips and Tricks
Because this slot game has two bonus feature games that can be triggered, one of which is a pick to win type of bonus game, one free slot games tip that you may find beneficial is that because the stake levels you play with this slot game affect how much you win during the bonus feature round, always start playing each spin for the highest stake level you can access, as the higher the bonus game payouts can be.
How to Win Big at Mermaids Million Slots Game
You must land five wild symbols on a single pay line, which pays out 7,500 times your payline stake to win the game's top prize. This pays out a whopping $75,000 on the maximum $150 per spin wager level, but if you do it during the free spins bonus round, the game's potential skyrockets thanks to the 3x multiplier applied to all winners.
There isn't much strategy involved in winning at the mermaid slot machine, so it's a wonderful spot to learn the ropes if you're new to multi-line real money slots. More experienced gamers, on the other hand, will find plenty to keep them occupied, as the tried and true wild, scatters, and free spins features provide plenty of excitement, and the traditional 'choose me' bonus round format never gets old, no matter how many times you're lucky enough to play it.