Niagara Falls is one of Canada's most iconic locations. So, what could be cooler than a casino that's perched almost on top of the world's most spectacular natural wonder? When players aren't sat around one of Niagara Fallsview Resort Casino's 100 gaming tables, or playing one of its 3,000+ plus slot machines, they can admire the breath-taking view outside. As well as the casino itself, a nightclub, a concert theatre, 18 restaurants, shops and a 35-story luxury hotel complete what must rate as the ultimate casino resort destination.
2. Casino De Montreal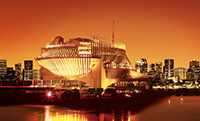 Stretching from the Atlantic to the Pacific Ocean, from the United States to the Arctic Circle, Canada is famous for its vast, wide-open spaces. When it comes to the country's casinos, size is just as important, and they don't get much larger than Casino de Montreal. The largest casino in Canada, it is spread over three buildings with up to six floors and the casino itself has over half a million square feet of floorspace. This includes 115 gaming tables and a massive 3,200 slots machines. As if that wasn't enough, the Casino de Montreal is open 24 hours of the day, seven days a week.
3. Stoney Nakoda Resort and Casino, Alberta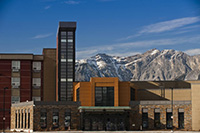 While casinos are usually located in bustling cities, some can be found in the countryside, too. When it comes to rural splendour, you don't get much more spectacular than the Stoney Nakoda Resort and Casino. Set in the heart of Alberta, in Kananakis Country, this spot is known as the basecamp of the Rockies and little wonder …. the Rocky Mountains are right there outside the front door to admire in all their breath-taking glory. Don't worry though, rural doesn't mean remote, Stoney Nakoda Resort and Casino is right by the Trans Canada Highway making it easily reachable from Calgary. The perfect rural casino retreat.
4. Diamond Tooth Gertie's Gambling Hall, Dawson City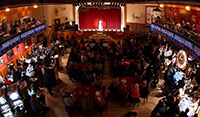 Diamond Tooth Gertie's Gambling Hall in Dawson City, Yukon – fondly known as Gertie's to its regulars – has the distinction of being Canada's oldest casino, having first opened its doors back in the 70s. Gertie's patrons are, however, treated to a much more authentic historic experience than that. The casino is styled on the Klondike Gold Rush era and named after the famous Gertie Lovejoy who danced the night away with a diamond between her teeth. Gertie's is the only casino in Canada where patrons can gamble, watch a live vaudeville show, and even enjoy a beer at the same time – all in a true-to-the-era period-style gambling hall. For patrons looking for a gold rush experience of their own, this casino fits the bill perfectly.
5. Casino Regina, Saskatchewan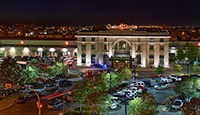 Visiting a casino shouldn't be a hair-raising experience, but a trip to Casino Regina in Saskatchewan just could be, and that's because it's reputedly haunted. Built in 1921 as a main railway station, the building has a deep and very dark past. The basement contains old railway police cells used for holding prisoners as they were transported across country. In addition, the building was once connected to a network of underground passageways stretching several blocks across town, and which were reputedly used for all manner of shady and illegal activities.
Reports of ghostly apparitions date back to the 1930s and one of the store rooms, a former prison cell, is said to be so haunted that staff refuse to go there alone. Should you dare to play the gaming tables or slots here don't look behind you …. a ghostly figure is said to lurk on the balconies around the poker tables.
1

Pocket my 200% match starter package
Fully licensed in Curaçao
Many deposit options incl. Bitcoin
New slot games added monthly
2

Grab up to $2,000 in your welcome package
Founded in 2018 and licensed in Curaçao
Excellent promotional packages
Top banking options available
3

Play with $250 on a $50 deposit + 50 FS
Launched worldwide in 2017
Wide variety of slots and other games
Top deposit and withdrawal options