In online casino gaming, few themes have captured the imagination of players, quite like the mystique of ancient Egypt and its legendary queen, Cleopatra. Cleopatra-themed slot games have long been a favorite among enthusiasts, offering a chance to embark on a treasure hunt through the sands of time in the company of one of history's most iconic figures.
In this blog post, we'll delve into the captivating world of Cleopatra slot games. From the classic and timeless "Cleopatra" slot to the innovative "Legend of Cleopatra Megaways" and more, we'll explore their unique features and what makes them stand out from the crowd amongst many online video slots.
1. Cleopatra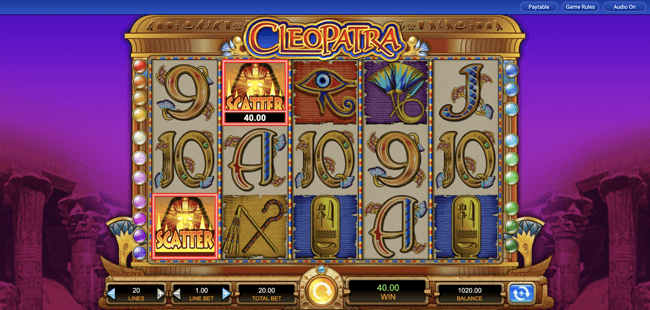 This Cleopatra slot is an iconic and timeless classic in casino gaming and our number-one choice. With five reels and 20 paylines, it offers straightforward gameplay that's easy to grasp, making it an excellent choice for newcomers and seasoned slot enthusiasts.
The real excitement lies in the Free Spins bonus round, where you can win up to 15 free spins with a 3x multiplier.
2. Legend Of Cleopatra Megaways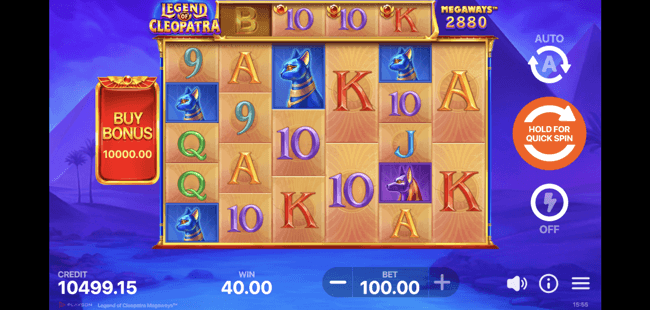 The Legend of Cleopatra was developed by Playson, who is not the most mainstream developer. Legend of Cleopatra is playpens first slot to feature the Megaways mechanic, and they have used it well.
The game features an RTP that is low at 95.80%. Most slots these days have a payout between 96% and 97%. The bonus features include collapsing symbols, free spins, and locked symbols.
3. Book Of Cleopatra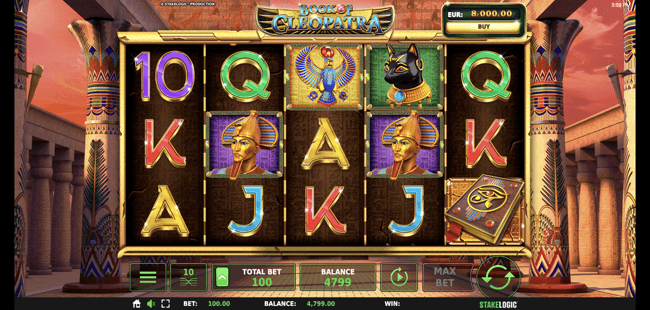 The book of Cleopatra is based on the Book of Ra but better. The RTP is higher at 96.21%. An upgrade with better graphics, and you are now able to buy free spins.
This is one of those games where you need to be patient because of this low win frequency.
4. Riches Of Cleopatra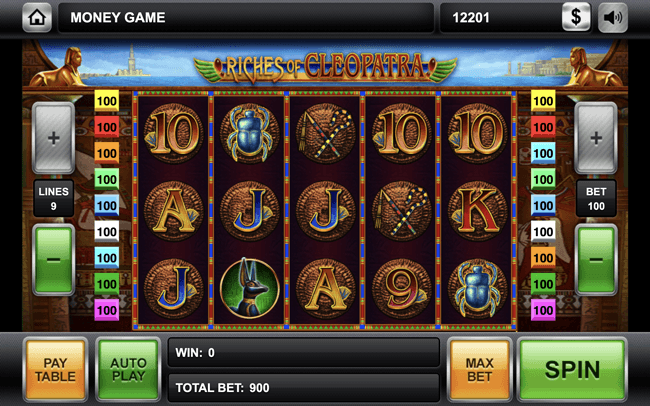 Going all in on the Egyptian theme, the symbols on the reels are made up of hieroglyphics, symbols of the sphinx, and Cleopatra herself as a high-paying symbol. The graphics and design of the game have an old-school feel.
RTP is a bit low at 95.02% and is across 20 paylines.
5. Book Of Cleopatra Super Stake Edition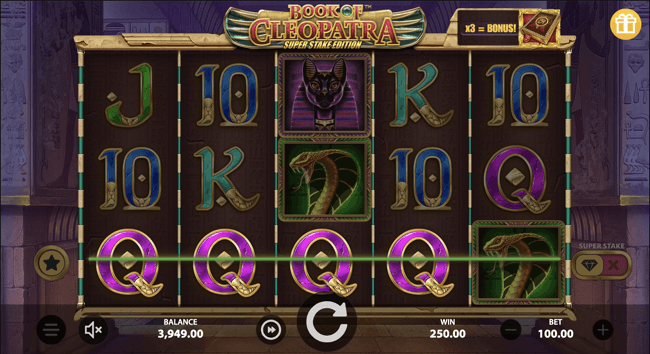 A rendition of Book of Cleopatra with the super stake feature, Stakelogic, improves the graphics and animations quite drastically, contributing to the fresh feel of the game.
The RTP is 96.7% with ten ways to play.
6. Battle Maidens Cleopatra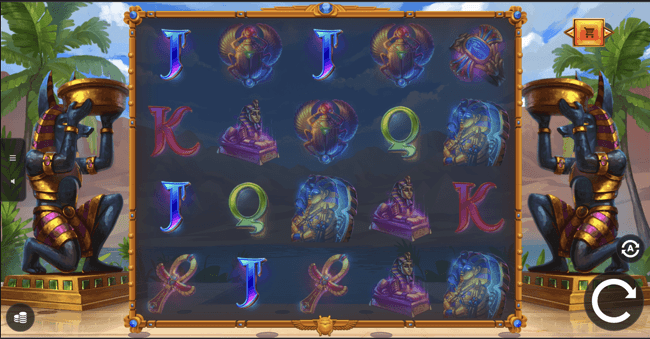 Battle Maidens Cleopatra is a refreshing and unique twist on the Cleopatra theme, bending it with a battle theme. The high-quality graphics and animations visually make the game eye-catching.
The max winnings of the game is a whopping 10,000 your bet.
Technically, the game has an RTP of 96.4% and 1024 ways to play.
7. The Legend of Cleopatra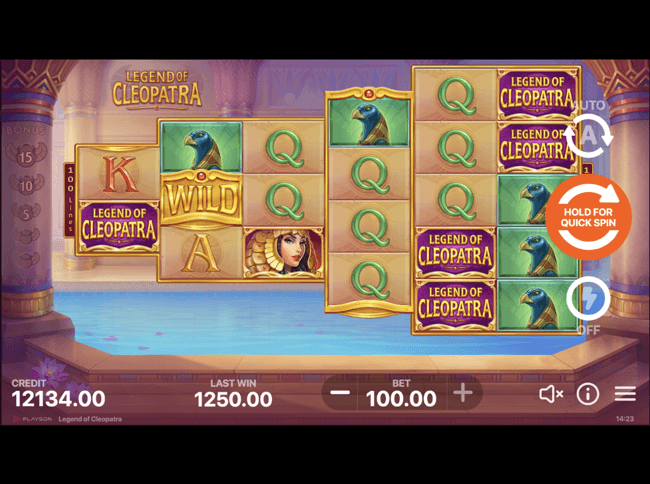 The Legend of Cleopatra from Playson has taken an interesting direction on the reel structure with a 2x3x3x4x5x5 with 100 fixed paylines and many bonus features.
Extremely smooth gameplay, good graphics, and an authentic soundtrack.
The RTP is 95.84, although there is plenty of potential for big wins.
8. Mega jackpots Cleopatra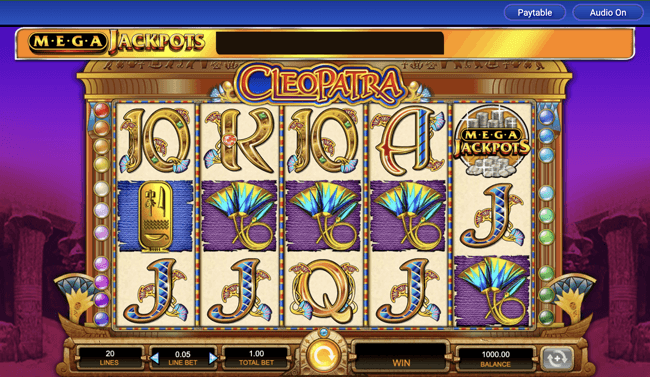 Being part of the Mega Jackpot series, there is some serious potential for big wins across 100 fixed paylines. Who doesn't like winning big?!
Although it has an old-school feel at first glance, the game runs great and is smooth. Being an IGT game, they are always satisfied.
With an RTP of 95.84% and a max win of 10,000, your stake.
9. Cleo Wish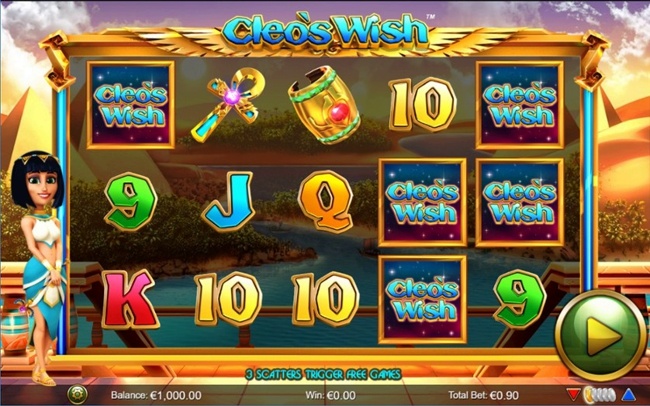 Cleo's Whish by NextGen. It's a more cartoonish version of the Cleopatra-themed slots, packed with bonus features, including free spin features. I am keeping it light, fun, and exciting.
They have kept RTP relatively modest, with a 95.15% return to the player across 25 paylines and medium volatility, but with the bonuses, there's no shortage of action.
10. Cleopatra plus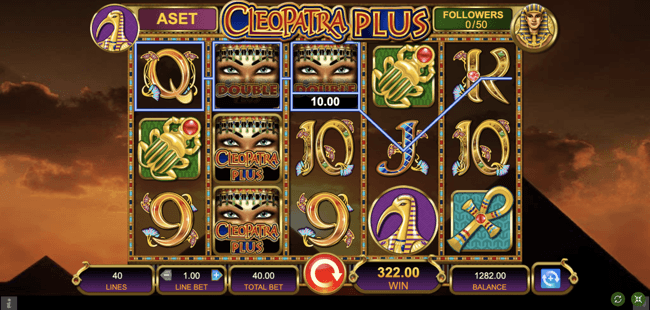 Cleopatra Plus comes with some exciting features; being a plus version of the game, there are more than a few bonuses to the game, and a 2x multiplier is standard. As with a followers feature that changes the maps for more unique game parts.
The only thing this has in common with its IGT predecessor is the name. It's modern, exciting, and full of new features.
11. Cleopatra gold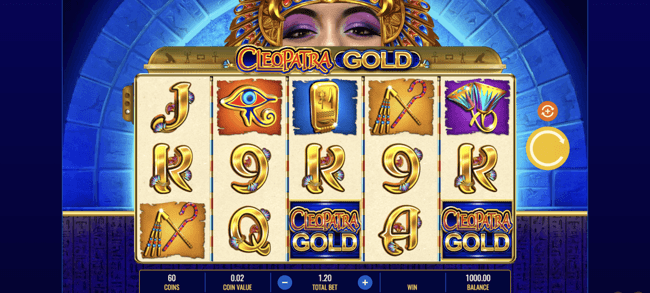 Another rendition of IGT's classic Cleopatra is Cleopatra gold. All they added here is the gold spin feature, which triggers free spins stacked on each other. It makes the game more diverse from the original but less exciting than Cleopatra Plus.
It has an RTP of 95.97%, and the volatility is medium.
12 . Sceptre of Cleo
The Sceptre of Cleo by Oryx Gaming feels more on the standard side. There are relatively limited bonus features, and the graphics don't stand out.
This one is more suited to casual gamers. The RTP is 96% across nine paylines.
13. The legacy of Cleopatra's palace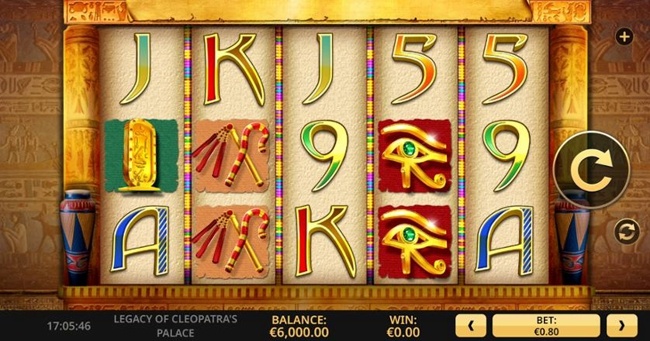 If you're a fan of simple slots, I recommend this one. It has free spins, scatter pays, and win multipliers. That's it. That being said, it's in no way boring. The bonuses make this game shine.
40 paylines and an RTP of 96% (the industry Standard).
The graphics in this one stand out, and the mechanics feel incredibly smooth.
14. The Hidden Treasures of Cleopatra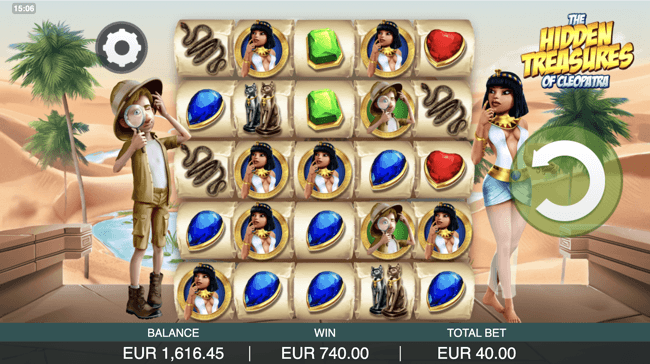 It has quite an innovative gameplay that starts as a 3x3 and expands to a 3x5 reel. It has 27 Pauline and an RTP of 96.86%, but in my experience, don't use this as a license to go on a spending spree.
The game's volatility is medium, but as you play, you might leak money as you hit wins. Spend wisely, and you should be profitable.
15. A Night with Cleo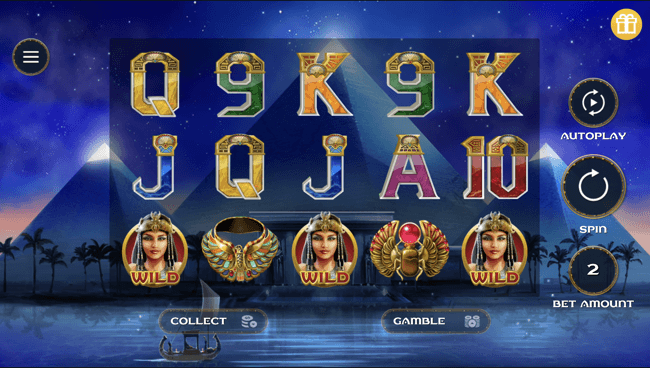 More of an adult-themed slot, it is a progressive slot, giving the game its edge. Besides the subtle nudity.
With 20 paylines, the max prize of 10,000 coins and medium volatility, there is not much to complain about. It has much potential to earn big and have a unique experience.
For the right person, this game is entertaining.
16. Cleopatra coins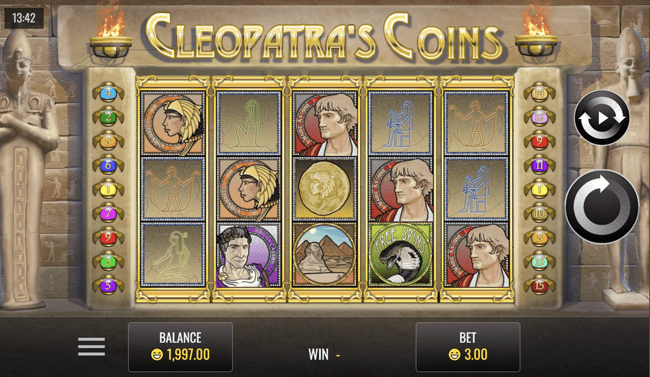 Even though its graphics and mechanics feel a bit outdated, there is no doubt that Cleopatra's Coins is still fun. It gets even more fun with the respins and when they get retriggered. They can go up to 100 respins.
The RTP is 95% over 15 paylines. The max win is 5000. Rivals Gaming did well on this one.
17. Play with Cleo
It's easy to see how much effort Dragon Gaming put into this game. The graphics stand out, the gameplay is smooth, the bonuses are insane, and it all-round feels fantastic.
One thing you can bank on in this game is the wilds; they multiply 3x and expand to fill the reel.
The RTP is 95.82% across 27 paylines.
18. Jackpot Cleopatra old deluxe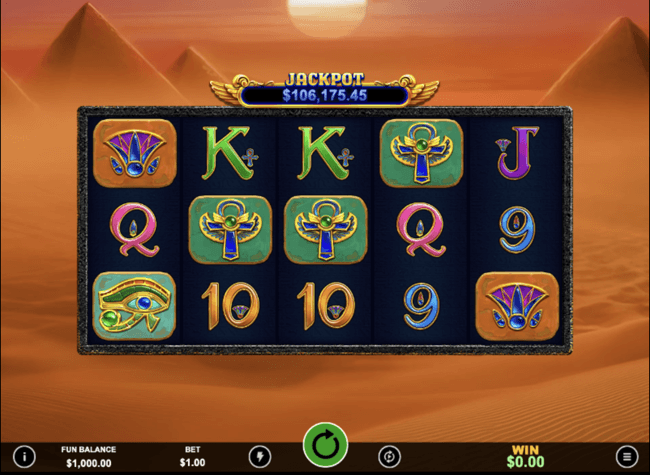 A rendition of RTG's Cleopatra Gold with even more to offer. With a fixed 25 paylines, a spin will cost you one coin. You can hit the 7,500x your bet without the progressive jackpot if done right.
This is one of those bet low win high type situations, not to mention the possibility of winning the 100,000 coin jackpot.
19. Wild link Cleopatra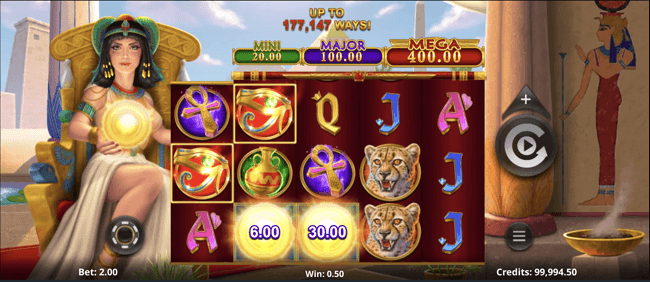 Even though SpinPlay Games is not the most popular developer, this game is pretty good. The graphics are more essential than the wild link feature, which has a lot of potential, a 4,841x potential. Not too shabby.
The RTP is reasonable at 96.37% medium volatility and is 243 ways to win.
20. Cleocatra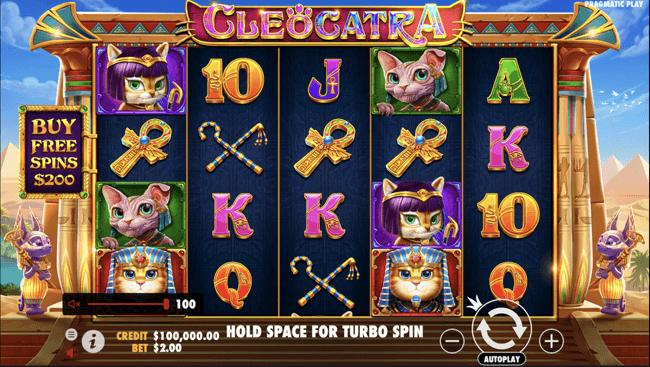 It is an exciting take on the Cleopatra-themed slots, a literal cat version of the Queen herself. You can expect your balances to be swinging in this game. The RTP is 96.20%, and the volatility is high. There is a definite theme of increased risk for high reward.
The game runs on 40 Payline, and the math model feels balanced.
Conclusion:
As we conclude our exploration of Cleopatra-themed slot games, one thing becomes abundantly clear: the allure of ancient Egypt and the legendary queen herself continues to captivate players of all levels of experience. Whether you're drawn to the simplicity and elegance of the classic "Cleopatra" slot, the innovative gameplay of "Legend of Cleopatra Megaways," or the fresh take on the theme in "Battle Maidens Cleopatra," there's something for everyone in this genre.
With visually stunning graphics, immersive soundscapes, and exciting bonus features, these games offer a thrilling and rewarding gaming experience. So, the next time you spin the reels in the world of Cleopatra slots, remember that you're not just chasing treasures; you're also diving into a rich tapestry of history and legends that continue to shine brightly in the world of casino gaming.