Street Fighter is arguably one of the most iconic and influential videogame franchises in history, spawning 22 different titles across various platforms. Now NetEnt has taken up the torch, revealing that they are preparing to launch Street Fighter II: The World Warrior online slot.
This slot adaptation features 8 selectable, original famous characters from the game; namely, Ryu, Ken, E. Honda, Guile, Chun-Li, Blanka, Zangief, and Dhalsim. Boss fights are naturally included with Balrog, Vega, Sagat, and the supremely malicious M. Bison waiting for your challenge.  The classic graphics and soundtrack that made Street Fighter II the cult classic that it is today have been kept as close to the original as possible.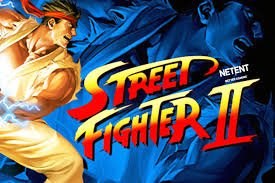 Capcom released Street Fighter II: The World Warrior in 1991 and it was an instant classic, drawing throngs of fanatics to arcades all over the globe. Its immediate success guaranteed the longevity of the title, with numerous sequels and movies and a massive merchandising empire emerging over the following years.
This was the first major videogame title that allowed players to choose from a variety of individually-skilled characters and the first of its type to offer special move combinations.
Bryan Upton, NetEnt Director of Games weighed in on the developer's choice to bring this historic title to the world of online slots.  "The release of Street Fighter II: The World Warrior took the arcade world by storm in the early nineties and today it is widely considered as the ultimate classic video game that continues to entertain fans almost 30 years later"
He further went on to add, "At NetEnt, we strive to deliver content that – much like Street Fighter – raises the bar in what is possible in gaming and we are immensely proud to be working with such an iconic franchise especially something in tune with the retro trends right now.  It is a dream come true to work on brands like these. Street Fighter II allows us to bring something new and innovative to the market that no one else can."
Exclusive Promotion at Mr. Green
Street Fighter™ II: The World Warrior Slot hits the market on 21 May 2020. However, you can experience this slot exclusively at Mr. Green casino, and to celebrate, they are giving every single player that signs up an account and extra 50 free spins on this exciting game!
​