Online gaming software developers have introduced more sophisticated player tracking systems to increase visits to the casino.
Technology has always been the industry's best friend and innovative software has changed the world of gambling. Things are now moving so quickly that days of playing slots at your PC at home are even diminishing. Mobile slots are the way forward and land based casino slots are feeling the pinch – and the competition is only getting tougher.
As the mobile gambling market grows, traditional brick and mortar venues are battling to retain existing customers let along bring in new younger players. The latest trend in land-based casinos is player tracking systems.
Simple rewards to attract players
There is much more to simply pulling a lever or clicking a button when it comes to slots games. The evolving world of technology allows developers to improve the online gaming experience with immersive, interactive features.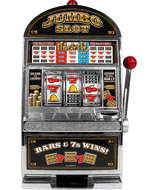 Just think about the awesome bonus rounds which feel like you are watching a video game. Some slots actually feature clips from movie scenes themselves.
Throw in free spins and other features, it is now easier for players to win.
Land based casino are trying to take things a step further with some new clever gadgetry that will keep track of how much time you spend at slots machine. It will then reward customers will points which could be exchanged for various perks, cash or even prizes.
We think this is a clever tactic to reward you from your patronage and of course, keep you coming back. All in the hope that you will continue playing their slots instead of playing online.
How Clever is the Tracking Tech?
Casino management can now track almost every detail about a players activity including, time at the machine, the amount of money spent per player, number of wins, losses etc. Just think, while playing you favourite jackpot slots game, the manager could walk over and hand you a complimentary night in their luxury suite.
What the future holds?
There is no question that mobile slots gambling will continue to exist and thrive. But what they can't offer, is the social benefit of land based casino gambling. Human interaction!
There is still nothing better than getting dressed up, treating you and your better half to a quality meal… then heading over to your favourite slots with a bunch of mates for top entertainment. Then to top it all off you simply retreat your room for some 'R and R'.
Can't make it out to a land based casino? Play online at Mr Green Casino and claim $1200 free plays!