A leading name amongst casino solution providers – Evolution Gaming has recently launched a brand-new game by the name of "Mega Ball". This bouncing ball game by Evolution is the first of its kind (under the brand) and makes a new addition to the constantly increasing line up of game shows created by the provider. Mega ball comes in a live dealer and First-Person variant, read on below to know more.
Mega Ball- Review
Mega ball happens to be a bingo-style game that features a ball machine that houses 51 balls. Players may purchase as many as 200 tickets to watch as the sequence of 20 balls is drawn randomly, one by one, to check whether the card numbers match them. Every card comes with 12 lines, and the larger number of lines you create, the more likely you are to win more money. The main highlight of this game is the Mega Ball which is drawn as the 21st ball. It has been assigned a multiplier in the range of 5x-100x that is decided by RNG. In case the player creates a line, which contains the number in the Mega Ball, the winnings shall be multiplied by the number on the ball.
This game was first introduced at ICE in February 2020- it is a uniquely exciting game, particularly because of the two mega ball bonus rounds which allow the players to win as much as 1,000,000x their bet. The maximum winning potential is kept at €500,000. Mega ball will occur in a rather luxurious environment, being hosted by real-life dealers. The game can be easily played on mobile devices and desktops.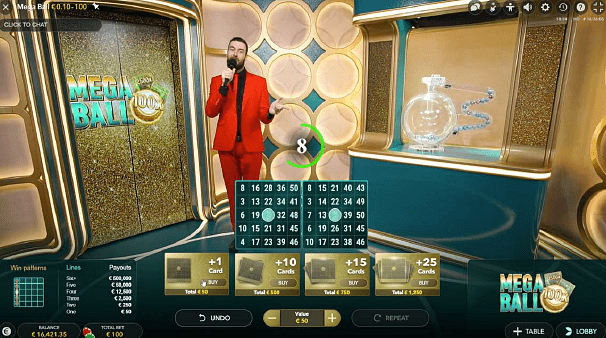 Features of Mega Ball
Todd Haushalter, Chief Product Officer at Evolution Gaming, commented on the launch of this new game show, saying that both lotteries and bingo are very popular games which gave them the idea of combining the two while also adding a slot machine that creates Mega Ball.
"We wanted to create a game that has huge prizes, drama, and excitement. I think players are going to love this game!" added Haushalter.
Other than the live version of Mega Ball, players also have the chance to try their chance at First Person Mega Ball, which is an RNG-operated game variant. Thus allows the players to control the game, letting them play it at their own pace. If you want to switch to the live dealer Mega Ball, you only have to press the Go Live button.