There are a lot of strategies that gamblers use while playing online slots, and many prefer to go with the conventional beliefs. Some of them are: 'you need to bet maximum coins and then you can achieve maximum returns'. 'Higher the coin denominations, more is the pay', 'you need to bet maximum in order to play progressive slots'.
These strategies did work well until online video slots came into the equation, but after that there was some improvisation needed. Here are some key strategies to play online video slots in 2015.
Old strategy: The slot player should bet for the maximum coins so that he can get the best or rather maximum percentage in payback./p>
2015 strategy: Always keep a check on the pay table. There are many video slots that are purely multipliers. These multipliers give the same amount of payback even is the betted coins are higher.
At times it has been observed that the players get the highest payback in the online video slots with the maximum coin bet. There is a simple reason for this profit, and it is when the final coins are wagered there is a jump in the top most jackpots.
The slots that do not give disproportionate return in the top jackpots gives the same percentage of payback regardless of the number of coins you have betted. This is the reason why you need to check the pay tables. Actually wagering single coin per line will fulfill your requirements if you realize that all the payoffs are proportional to the number of coins that are betted.
Old strategy: The player should bet the maximum in order to play the progressive slots.
2015 strategy: You just need bet enough to be eligible for jackpots to play the progressive slots.
Video Slot Casinos
Kick-start your slots action at 32 RED and receive a friendly welcome bonus of $32 Free for every $20 you deposit. Total $160 FREE. This is a premium Microgaming slots website that will allow you to play a variety of slot games from your desktop or mobile device. After we test drove this casino we have given it a star rating based on our overall experience.
If there are three slots with only one progressive jackpot then the whole scenario of the play will change. If you have wagered for few coins, then there will be a fixed take for you with three jackpot symbols. The ones who bet the maximum coins will get the progressive pot and that will keep on building. It will keep on adding a portion by the time someone wins.
This is the reason why in video slots if you do not bet the required coins for the progressive jackpot, then your return will also be low. The coins required for being eligible for the jackpot maybe high, but they are not the highest. Some players might need to bet little extra in order to be eligible. Once you are eligible then the size of the bet does not matter, but your residual bet size will surely matter when it is the jackpot bet.
Old strategy: You should carefully read the glass of the machine before playing.
2015 strategy: Go through the help menu before playing.
If you are a smart player then you will definitely read the machine glass to read the symbols and rules. But the machine glass is replaced with help menu in video slots. You will get information for almost all your queries such as which symbols will trigger scatter payment on bonus rounds, should the symbols land on the active pay line, will the extra betting provide extra features, will waiting too long disqualify you from the community bonus and many more such things.
You will get all the needed help on the help menu, so before starting you're betting read the help menu carefully in order to get rid of the expensive surprises.
The gaming software giant, Microgaming have released two new online video slots this July! You can dive beneath the water and meet colorful sea life when you play Fish Party, or revel in the power of artificial intelligence in RoboJack.
Each game offers you the chance to max out your winning potential with a 243-ways payline structure and a bevy of features. Both games were launched at top online Microgaming casinos including All Slots, Spin Palace and 32 Red.
It's a Fish Party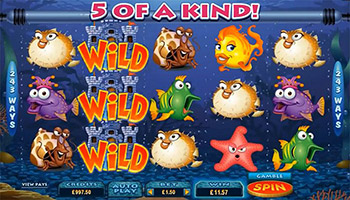 See what life is like under the waves and have fun in Fish Party. This slot game takes you to the bottom of the ocean, where you will find icons like the Clownfish, an annoyed Starfish, a silly Puffer Fish, and more in a typical five-reel layout. All 243 consecutive left-to-right combinations pay out, which means more chances to win.
In the main game, Wild Castles are stacked on the reels. And if you get 3 or more scattered Clams you can activate the Free Spins bonus round. If triggered, you'll get 8 – 20 free games depending on the number of triggered scatters. These free spins are great and they come with Super Stacked Wilds and Triple-Stacked High-End Symbols.
Look out for the RoboJack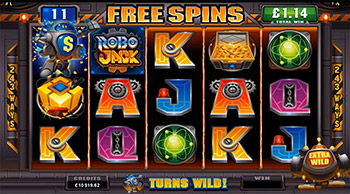 Take a look and try out one of Microgaming's latest high-tech games and play RoboJack. Set in a robot factory, this new bonus slot will amp up your chances of winning big. It has 243-paylines, which will give you wins on every spin.
The things you really want to aim for in this slot game is hitting 3 or more Scatter symbols on any reels. Once, triggered, there will be 5 distinct robots each with their unique surprise. This could take the place of: extra wilds scatter prizes, and even random wild reels. One robot will be chosen for you, but you have the option to replace this with another.
Play these games today at 32 Red Online Casino and receive $160 FREE